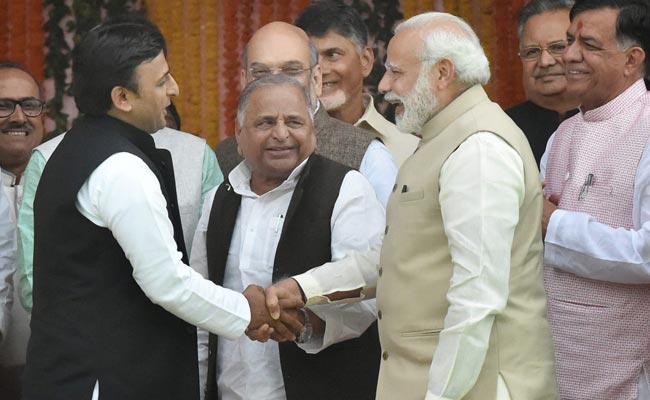 Samajwadi Party chief Akhilesh Yadav on Sunday took a dig at Prime Minister Narendra Modi and claimed that he was trying to save his lost popularity and credibility by laying foundations of various projects and building "castles of development in the air".
SP chief Akhilesh Yadav, in a statement, said, "Prime Minister was seen making a futile effort to sell developmental dreams during his two-day visit to Lucknow. He wants to save his lost popularity and credibility through laying foundations of various projects."
PM Modi was here to launch as many as 81 investment projects estimated to be worth over Rs 60,000 crore, according to officials. 
Catch all the latest news about Lok Sabha elections 2019 HERE
The prime minister is making numerous announcements, as they (BJP) have not been able to implement a single scheme, like the several schemes implemented during the tenure of Samajwadi Party, he said.
In the last six months, there has been big talk about investment, but the truth is that in a state where there are law and order problems, how will the developmental schemes be successful, he added.
Their speeches attack the SP since the SP is competent enough to take on the politics of hatred and division practised by the BJP, Yadav added.
Earlier in the day, hours ahead of the launch of 81 investment projects worth over Rs 60,000 crore for Uttar Pradesh by Prime Minister Narendra Modi, Samajwadi Party released a 40-second video clip ridiculing BJP's poll promises.
Modi's Uttar Pradesh tour on Sunday was his sixth visit to the state this month and second to Lucknow in as many days.
He was here on Saturday to attend a programme on "Transforming Urban Landscape", marking the third anniversary of three key government initiatives related to urban development -- Pradhan Mantri Awas Yojana (Urban), Atal Mission for Rejuvenation of Urban Transformation (AMRUT) and the Smart Cities Mission.
Earlier this month, Modi visited his parliamentary Lok Sabha constituency Varanasi, Azamgarh and Mirzapur, besides Noida (Gautam Buddha Nagar). He had visited Sant Kabir Nagar on June 28.
Akhilesh Yadav said though the prime minister "built castles of development in the air", he "conveniently skipped" mentioning the 302 km Lucknow-Agra Expressway, the Gomti Riverfront, Janeshwar Misra Park and Lucknow Metro, which were flagship projects of the SP government.
Talking about investment and promising a better tomorrow is baseless when health services are in shambles and law and order situation in the state is at its worst, he said.
Commenting on the frequent visits of the prime minister to Uttar Pradesh, senior SP leader Ram Gopal Yadav said, "This is just the beginning. As elections approach, he will have to come here on a daily basis."
It is pertinent to mention here that just a few months before the Lok Sabha elections 2019, PM Modi's visits in Uttar Pradesh have increased. The state sends 80 MPs in the Lok Sabha and hence commands considerable importance in the general elections.  
(With PTI inputs)