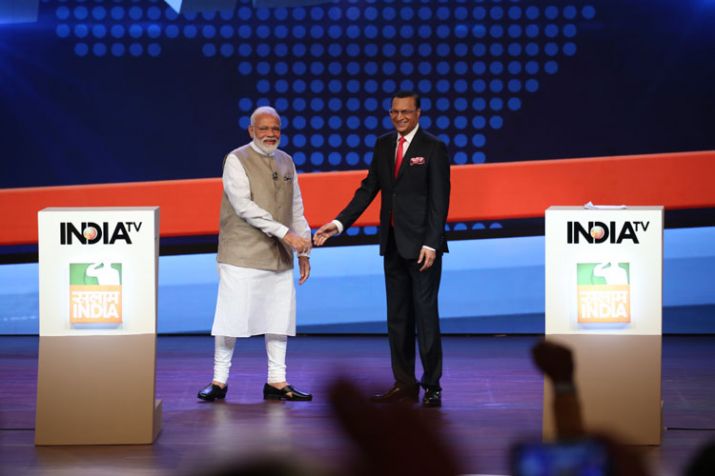 Prime Minister Narendra Modi has said that he had made friendly gestures to both former Pakistan PM Nawaz Sharif and the present PM Imran Khan, but added, "the biggest problem with Pakistan is that nobody knows who is running that country and whom we should  talk to." 
In a freewheeling exclusive interview to India TV Chairman and Editor-in-Chief Rajat Sharma in front of a packed audience of nearly 2,500 people at Jahawarlal Nehru Stadium in New Delhi, Modi made this remark.  
The Prime Minister's remark comes in the backdrop of Pakistan PM Imran Khan's letter to Modi, in which he had written that "resumption of bilateral dialogue is important to resolve all outstanding issues, including Kashmir." 
Modi said: "When Imran Khan became PM, we talked over phone. I told him that both the countries have fought several wars, and every time Pakistan was defeated. Both of us as Prime Ministers should work towards eradication of poverty in the next five years.  
"Imran Khan replied, 'I am the son of a Pathan, I am speaking the truth. I want to say, let us start a new beginning.' This was what we discussed (before Pulwama). 
"I think Pakistan has a problem. It is not my experience alone. It is the experience of many other countries. I have spoken to several statesmen from the US, China, Russia, and leaders from the Gulf and Arab countries. One thing emerged. I was told, to whom will you talk to? With the Army? With ISI? With an elected body? They said, we ourselves don't know who runs that country. This is the biggest problem. Let Pakistan resolve its problem first." 
ON NAWAZ SHARIF AND LAHORE VISIT 
 
Describing former PM Nawaz Sharif as "he seemed to be a genuine person", Modi disclosed in details how he accepted Sharif's sudden Lahore invite on the spur of the moment. Nawaz Sharif and his daughter are presently in judicial custody in Pakistan because of Panama Papers case. 
"He (Nawaz Sharif) had accepted my invitation and was a guest along with other SAARC leaders at my swearing-in ceremony (in 2014). In December 2015, I was in Afghanistan. I was to return to Delhi in the evening. It was 25th of December, birthday of Atal Ji and Nawaz Sharif. I rang up  Nawaz Sharif to offer birthday greetings from Kabul. I asked him, Mian Sahib, where are you right now? He replied, I am in Lahore. I said: Yaar kamaal hai, you do not stay in your capital, but in Lahore. He said, my niece is getting married and I am here with my family members. He asked me, where are you?  I said, I am in Kabul and returning to India.  He said: Please drop in here on your way back.  I said, how can I come suddenly? He said, please come, we will meet at least for 10 minutes. I discussed with Sushmaji she said you decide.   I talked to NSA, SPG. Every body was worried since the officials had no visas nor were there any security arrangements in place, nor anybody knew about the layout (of the place). We will have to land straight. I said, come on, let's go, we'll see.  
"I went to Lahore out of goodwill (sad-ichha) because he (Sharif) had come to my swearing-in. I thought, he is a genuine person, he can do something, and I was to make a courtesy call only. When we reached there, he said, we would have to go in their helicopter to their home. Normally the head of a government never used the aircraft of another head of government. One has to think 50 times. I said, chalo yaar. We sat in the chopper and went to his home, met his family members, had tea. We had nice, 'goody goody' talks. Nothing serious. But this sudden visit sent a message across Pakistan. That India does not bear ill-will towards Pakistan. This was the biggest success of my hour long visit. The common man in Pakistan was impressed. They were being fed lies about India. The message went to them that India desires the well being of the people of Pakistan. We returned, and within a week, Pathankot (attack) happened. " 
ON WING COMMANDER ABHINANDAN'S RETURN  
Asked how India secured the quick release of IAF Wing Commander Abhinandan Varthaman, who was taken into custody by Pakistan, the Prime Minister had a cryptic reply: " That was a (terrible) night. There are many mysteries buried in (the darkness of) that night. Let those mysteries stay as they are. (Woh ek raat thi. Jis raat me kai raaz they. Raaz ko raaz hi rahne dijiye)  
Rajat Sharma: I have read an American report that you had deployed 12 missiles towards Pakistan?
Narendra Modi: I also hear a lot (Main bhi bahut kuch sunta hoon).  
KASHMIR IS NO MORE AN INTERNATIONAL ISSUE  
Asked how India persuaded China to agree to the UNSC resolution declaring Jaish-e-Mohammed chief Masood Azhar as a 'global terrorist', the Prime Minister replied: "I think experts should slightly correct their analysis. What is the reality today? What was the situation earlier? Whenever Pakistan's terrorism issue cropped up, Kashmir used to become a stumbling block. Russia used to be the only country that used to support us, and the rest of the world used to side with Pakistan. 
"This is the record of last 40 years. In the last five years, you might have noticed, only China supports Pakistan, and the entire world is with us. This is a very big change. On terrorism, we had a consistent policy and there was no world forum where India did not raise the issue of humanity and terrorism. Humanity across the world is facing danger from terrorism. I have succeeded in convincing world leaders on terrorism. For India, terrorism is the issue. That is why, Kashmir is no more an issue on the world arena.  This resolution (on Masood Azhar) is our great diplomatic victory. Experts will say that the force of this victory is greater than that of the surgical strike or air strike. The UNSC resolution will have a lasting impact." 
"Experts should analyze about my two major peace gestures towards Pakistan, inviting their PM to my swearing-in and visiting Lahore on the Pakistani PM's birthday.  These  two gestures created a positive environment, After the terror attacks in Pathankot, Uri and Pulwama, I had no difficulty at all in convincing the world about terrorism. I do not have to exert myself much. The world has acknoledged that Modi is true. These two gestures will give India benefits in the coming years too. And those (in the Opposition) who had been questioning my Lahore visit, and sitting with Zi Jinping on a 'jhoola' in Ahmedabad, some people even added biryani, the minds of such people are filled up with crass politics only. They forget 'rashtra neeti' (state policy) which is paramount. 'Rajneeti' (politics) comes later. It is the nation's misfortune that I have got such an opposition to face." 
PAKISTAN WAS BADLY SHAKEN AFTER BALAKOT AIR STRIKE  
Asked why the Opposition is seeking evidence of damages caused by IAF air strike on Balakot, the Prime Minister replied: "Any citizen of India has the right to demand evidence, political leaders also have the right to demand evidence, but then, accepting those evidences is also their responsibility.  The problem (with Opposition) is they demand and demand, but do not accept.  The biggest evidence (of Balakot air strike) is Pakistan itself. Tell me, we did not announce to the world (that we carried out the air strike). As per our strategy, we were to meet in the morning to plan something. At 3.30 am, when the operation was over, and our pilots and aircraft returned, took off their uniforms and sipping tea, and joking among themselves, and I was informed, I wanted to go to sleep. But I was curious, to find out how the world took this. I started surfing online for international news. It was a big air strike. I told my juniors to go and sleep. At 5.15 am, the Pakistan army tweeted saying that Indian aircraft dropped payloads and left. I then understood that they were trying to gain sympathy, and have started howling. I then called in our officials, we analyzed the situation and prepared our next strategy." 
Asked whether Pakistan itself destroyed some trees in Balakot to tell the world that IAF had failed in its air strike, Modi replied: "For the last 3-4 days some experts have been trying to find out. Pakistan was in a quandary. If it admitted that the air strike caused damage, the world would know that there was a terrorist camp there. It was a lone residential building housing 600 people on a hill surrounded by trees.  So, to hide this, they had to do something. It was a Catch-22 situation for Pakistan. On one side, they would have admitted that Indian planes came and bombed their terror hideout, and on the other, they had to hide. Clearly they were badly shaken. They were committing mistake after mistake. The next day, it was their fighter plane which crashed, and their  pilot died, but they said, Indian plane was downed. They had lost their balance, and they are still to come out of that trauma.  
"Had there been no elections in India and bickering (among leaders) , Balakot air strike would have ranked among one of the major military operations of the world. In the din of electoral campaign, we have downplayed the valour of our heroes. I therefore pray to God that there be peace after elections, and the experts tell the nation what a fine operation was carried out by our brave men." 
Asked about former PM Dr Manmohan Singh claiming that Indian army had carried out several surgical strikes in the past, Modi replied:  " The Congress has only one ex-PM left. Earlier, they used to run the government through remote control, and now they are using remote control in order to make them issue statements." 
ON US PRESIDENT DONALD TRUMP 
The Prime Minister described how US President Donald Trump spent nine hours with him at the White House.  "When I met President Donald Trump for the first time, we spent nine hours at the White House. Probably it was a rare occurence, because normally such meetings last one hour. He took me on a conducted tour of White House. I had visited White House before and had met his predecessor. Trump showed me Abraham Lincoln's room specially. I was very much impressed. He had no notes with him, he showed me the table on which agreements were signed. He was reeling out historical events datewise, without the help of notes. I was indeed impressed. He took me affectionately to his own rooms. We  stayed together for long. He had called in his family members. His daughter Ivanka later visited India, and his son-in-law (Jared Kushner) visited recently. So it was a sort of family relationship that evolved. The credit does not go to Modi, but to 125 crore Indians. Previously, we had Prime Ministers who used to project a single family, my grandfather, my mom, etc. etc. I only spoke about India's 5,000 year old civilization, our culture, yoga, ayurveda, our architecture. I only try to project India, and keep myself in the background." 
ON RUSSIAN PRESIDENT PUTIN  
The Prime Minister disclosed an incident that took place in Moscow during his Russia visit. 
"Parliament was in session. I left Parliament straight for the airport, to visit Russia to attend the annual bilateral meet. When he landed at Moscow, it was minus 11 degrees Celsius. I was going to my hotel, when our ambassador told me that President Vladimir Putin has arranged a private dinner for me. It was around 9 pm local time, and I had travelled nearly nine hours non-stop. After a quick shower and change of clothes, I left for dinner. Our ambassador told me the dinner time would take only 50 minutes. You will be surprised to know I returned to our hotel at around 3.45 am.  
The Prime Minister had two other anecdotes to share during the interview. He disclosed how he had struck a personal rapport with the Argentine President Mauricio Macri and his wife Juliana Awada. The latter had served him tea in special teaware at Rashtrapati Bhavan when they visited India. Similarly, he said, Singapore Prime Minister Lee Hsien Loong and his wife took him to an Indian restaurant in the city where they had South Indian dishes.  
ON CASES AGAINST VADRA, CHIDAMBARAM, SONIA GANDHI  
Asked by Rajat Sharma why he was creating fear in the minds of Robert Vadra, P. Chidambaram and Sonia Gandhi, the Prime Minister replied: "You may remember, I had said in 2014 in Aap Ki Adalat show that people (who commit irregularities) must fear. Darna chahiye. To fear is good. (Yeh dar achha hai). This fear is for the good. (Yeh dar achhe ke liye hai). This fear is good for those who are innocent. (Yeh dar achhon ke liye hai) 
WATCH VIDEOS: PM Modi's Exclusive Interview to India TV's Rajat Sharma