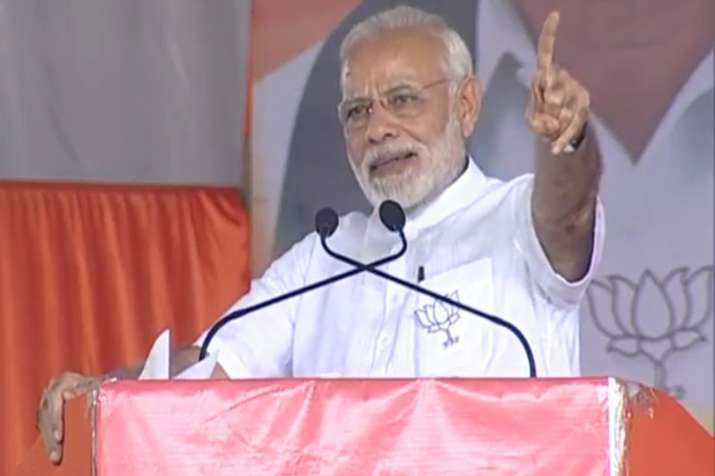 Launching a blistering attack on Congress and JD(S), Prime Minister Narendra Modi on Saturday claimed that the there is a 'tacit pact' between the two parties, adding that they are trying to make out of people of Karnataka. 
"Who can deny that there is a collision between JD(S) and Cong when they are fighting in Tumukura but are in alliance in Bangalore Municipal Corporation. They should stop making fool out of people of Tumukura and Karnataka," said PM Modi, while addressing a rally in Karnataka''s Tumakuru. 
Modi alleged that the Congress, for years, spoke about poverty eradication only to garner votes, while neglecting farmers and the poor. 
"Poll surveys, political pundits...everyone is saying the JD(S) cannot defeat Congress. They cannot form government. If anyone can change the government in Karnataka, it is the BJP. 
"If anyone is protecting the Congress, it is the JD(S)... Congress and JD(S) have a secret understanding...an understanding behind the curtains," Modi, who lavished praise on JD(S) patriarch and former prime minister H D Deve Gowda only a few days ago before training his guns on him, said. 
He also questioned the ruling Congress party in the state and the JD(S) about the upper Bhadra water project. 
Modi also said that former prime minister H D Deve Gowda did not want him to win the elections, but he never disrespected the latter, unlike the Congress. "Although respected Deve Gowda ji wanted me to lose elections, I always showed respect towards him," he said. 
Attacking Congress over the condition of farmers in the poll-bound state, PM Modi said, "Congress was never interested in providing water to the farmers. They were busy filling their safes with illegal money."
"One family in the congress party has ruled for most of the time after 70 years of independence they should answer why the farmer is debt ridden and doing suicides," he added. 
He also said that the Congress is trying to offer "false rhetoric and empty promises" to farmers of the state. 
Without naming, the prime minister also took a jibe at Congress President Rahul Gandhi, saying that "people who don't differentiate between red and green chilly and are producing gold from potato have started chanting the name of farmers".
Polling will be held in a single phase for all the 224-Assembly constituencies in the state, including 36 reserved for the Scheduled Castes (SCs) and 15 for Scheduled Tribes (STs). Counting of votes will take place on May 15.