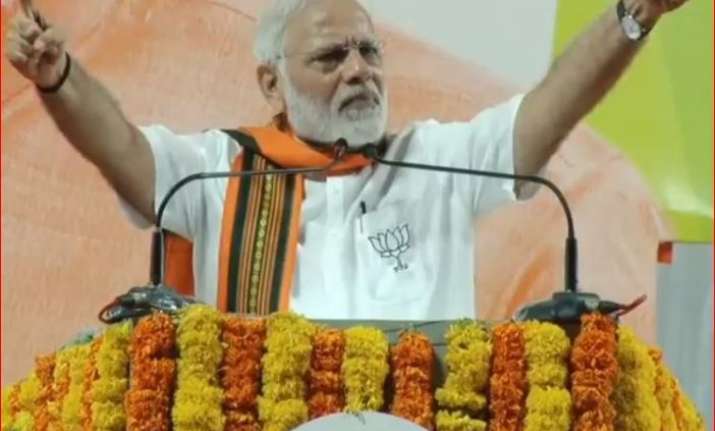 Prime Minister Narendra Modi today addressed public rallies in Mangaluru, Shivmogga, Tumakuru and Gadag. At Tumakuru, PM Modi launched a blistering attack on the Congress and JD(S), alleging that there is a 'tacit pact' between the two parties. PM Modi is scheduled to address a total of 21 public meetings in the state in the run-up to the Assembly elections. Voting for 224-member Karnataka Legislative Assembly will take place on May 12 and the votes will be counted on May 15. 
Highlights of PM Modi's Mangaluru rally:
07;48 pm: If anyone can defeat Congress, it is Bharatiya Janata Party. JD(S) is standing very far. I request you to bring BJP to power in #Karnataka
07:42 pm: Under Yeddyurappa's leadership,  Karnataka Government would leave no stone unturned for welfare of farmers
07:38 pm: Surakshit Karnataka is our commitment. We have approved ordinance for death penalty for those convicted of raping children
7:35 pm: Through Direct Benefit Transfer, we stopped leakages, eliminated corruption
07: 33 pm: Our Government is devoted to serve the poor and the marginalised. We empowered them by opening their bank accounts
07:31 pm: Congress that once ruled from Panchayat to parliament is now confined to few states only. Due to their ego, they lost elections.  one after other: PM Modi
07: 29 pm: Our karyakartas were brutally murdered just because of political differences. Is this the democracy that Congress practices? People would give a strong reply to the Congress on 12th May
07:27 pm: Congress spreads lies and hence is unable to digest if anyone speaks the truth. People are well aware of their tactics
07:25 pm: What did the Congress do to greats like Sardar Patel, Subhas Chandra Bose, Nijalingappa Ji is for all to see
07:23 pm: For Congress, only one family is everything. For me 125 crore Indians are my family
07: 21 pm: Opposing Modi has become the only agenda of Congress
07:17 pm: Congress spreads lies and hence is unable to digest if anyone speaks the truth. People are well aware of their tactics 
07:15 pm: Result of Karnataka election is clearly written on the walls. BJP will form government in the state with absolute majority
07:13 pm: Congress mocked the Swachhata Abhiyan. Is it not right that we think about their welfare?  
07:10 pm: Congress that once ruled from Panchayat to parliament is now confined to few states only. Due to their ego, they lost elections.  one after other: PM Modi
07:08 pm: PM Modi begins his speech at Mangaluru
Highlights of PM Modi's Shivamogga speech:
5:08 pm: PM Modi concludes his speech.
5:00 pm: 'Naamdaars' can never understand the hard work 'Kaamdaars' do. They mocked us for talking about building toilets and cleanliness from the Red Fort: PM
4:59 pm: Congress President says in Karnataka that we will not let thieves sit in Legislative Assembly. Why don't they tell about the Congress leaders sitting as MLAs & Ministers in the Karnataka Legislative Assembly, whose almirahs and bedsheets were found laden with notes: PM Modi
4: 58 pm: Yeddyurappa Ji visited homes of poor. They even mocked that! This is an insult of the poor and cannot be tolerated: PM Modi
4: 56 pm: Shameful that Congress leaders are using abusive language for Yeddyurappa Ji. This is not acceptable at all. Yeddyurappa Ji is a tall and respectable leader: PM 
4:54 pm: The kind of language Congress leaders are using for Yedyurrapa ji, who probably has experience equal to the age of some of them, is shocking: PM Modi
4:52 pm: There is no difference between the 'C' of Congress and 'C' of Corruption. Even now they cry fowl of demonetisation: PM Modi
4:51 pm: Congress looted the money belonging to the poor and the honest. How is it that assets of their leaders keep on increasing? They must answer: PM 
4:50 pm: Spreading lies has become a business for the Congress. Wherever they go, they spread lies among people: PM Modi
4:49 pm: I can never forget the affection of people of Shivamogga. When we had launched the Tiranga Yatra, back then I had got the opportunity to address a gathering here: PM 
4:48 pm: Who gave support to the ones who killed BJP workers in Karnataka. Who gifted PFI and SIMI and other violent organisations to Karnataka?: PM Modi in Shimoga
4:42 pm: There is no difference between the Cs of Congress and Corruption, says PM Modi
4:40 pm: Congress plays divisive politics. They have learnt the divide and rule policy from the British, PM Modi says in Shivamogga
4:33 pm: PM Modi begins addressing a public rally in Shivamogga in Karnataka
Highlights of PM Modi's public meeting at Gadag 
02:38 pm: It is the people of Karnataka who are going to make the Congress into a regional Party called PPP Congress (Punjab, Puducherry and Parivar Congress): PM
02:32 pm: Instead of finding different ways to replenish and revive dry ponds, they pray to get them dry. Once ponds get dried, they sell it to the builders: PM
02:31 pm: Congress is misleading people in the name of Mahadayi. What the Congress is doing is showing its true character and people should know about it: PM Modi
02:30 pm: I wish the Karnataka CM would have asked Sonia Gandhi Ji about her 2007 promise on Mahadayi. If he would know of that promise he would not be misleading the people: PM Modi
02:26 pm: After the results of 15 May in Karnataka, INC will turn into PPP, meaning 'Punjab, Puducherry, Parivaar' Congress: PM
02:25 pm: Have you ever thought why it took so long for Congress to distribute tickets? This's due to a tender system, for tickets, there will also be a tender for CM-ship. Whoever sends maximum amount of money to Delhi will get the CM-ship in Cong: PM Modi 
02:22 pm: They are also worried about the network of extortion mafia: PM
02:20 pm: Congress is worried about losing Karnataka and there is a reason behind this, and that is leaders and ministers here have made a huge tank. This tank stores money and a pipeline takes money straight to Delhi. If Karnataka goes, what will happen to their leaders in Delhi?: PM
02:19 pm: Congress can only loot Karnataka, they cannot do any thing else for the state: PM Modi
02:15 pm: Congress has destroyed the Kappatagudda forest and its mineral resources: PM Modi
02:14 pm: Congress declared Kappadagudda forest as reserve and after one year they had to overturn their decision due to protest by people: PM
02:12 pm: Congress has lost in Madhya Pradesh, Maharashtra, Goa, Gujarat, Chhattisgarh, UP, Uttarakhand, Himachal Pradesh, Tripura, people across India have rejected the Congress : PM 
02:11 pm: No one knows Congress policies and intentions better than the people of Gadag: PM Modi
02:11 pm: Congress is not bothered about the depletion of natural resources here. As long as the pockets of their leaders are full, Congress is happy. Congress sees corruption opportunities in the forests of Karnataka. Corruption is key to the existence of the Congress: PM Modi
02:10 pm: At the time of independence, mantra was Khadi for nation and now it's Khadi for fashion: PM
02:05 pm: The Congress Government in Karnataka is working only for 'Naamdaars' and not for 'Kaamgaars' : PM
Highlights of PM Modi's public meeting at Tumakuru​
12:11 pm: I have initiated a full-fledged battle against corruption and black money. There is no way we can tolerate corrupt practices: PM
12:10 pm: We are working on water conservation, micro-irrigation and linking our waterways, which was a dream of former PM Atal Bihari Vajpayee: PM 
12:09 pm: The Congress and JD(S) needs to tell the farmers what has happened to the upper Bhadra project: PM
12:07 pm: Resources have been allocated for Tumakuru's development under Smart Cities project. These resources are aimed at transforming Tumakuru but Congress government prefers to loot money rather than work for people's welfare : PM
12:06 pm: I want to ask Congress why the water project in Tumakuru has been kept 'atka, bhatka and latka': PM Modi
12:01 pm: Which Congress govt, either in Delhi or here in Karnataka ever thought about solving the water problem in Tumakuru? Sadly, they do not bother about the farmers: PM
11:58 am: Although respected Deve Gowda ji wanted me to lose elections, I always showed respect towards him: PM
11:58 am: Congress was never interested in providing water to the farmers. They were busy filling their safes with illegal money: PM
11:57 am: Who can deny that there is a collision between JD(S) and Cong when they are fighting in Tumukura but are in alliance in Bangalore Municipal Corporation. They should stop making fool out of people of Tumukura and Karnataka : PM
11:57 am: Our Government at the Centre has worked on irrigation projects on which no work had happened for 30 years. Some of these key projects are also in Karnataka: PM
11:56 am: In 2014, Deve Gowda ji had said that if Modi wins, I will commit suicide. I told him that you are a very respected politician and you will not have to commit suicide: PM Modi  
11:53 am: One family in the congress party has ruled for most of the time after 70 years of independence they should answer why the farmer is debt ridden and doing suicides: PM
​11:49 am: People who don't differentiate between red and green chilly and are producing gold from potato have started chanting the name of farmers: PM
​11:48 am: There is no denying the fact that JD(S) and Congress have joined secretly joined hands: PM Modi
​11:47 am: Surveys are saying that JD(S) will be at number 3, and that it cannot defeat Congress. Only one party can change the government in the state, and that is BJP: PM Modi
​11:44 am: Congress is trying to offer false rhetoric and empty promises to the famers. The Congress' neglect of the agriculture sector is very well known. I wish they were serious about the welfare of the farmers : PM Modi
​11:43 am: For years, the Congress kept saying- 'Gareeb, Gareeb, Gareeb.' However, nothing came out of this rhetoric. They failed to transform the lives of the poor in India: PM Modi
​11:38 am: Those thinking of growing gold from potato are reiterating 'kisan, kisan': PM Modi
11:37 am: This land of Tumakuru is home to several greats. After becoming PM I had come here to Tumakuru and sought the blessings of Sri Sri Sri Sivakumar Swami Ji at the Sree Siddaganga Mutt : PM
​11:36 am: On every election from the time of Indira Gandhi, Congress used to reiterate 'gareeb, gareeb, gareeb' to win.  
09:28 am: 
Schedule of BJP National President Shri @AmitShah's public programs in Karnataka. Watch at https://t.co/vpP0MI6iTu pic.twitter.com/0bpXJB7x2b

— BJP (@BJP4India) May 5, 2018
09:20 am: 
Here is the schedule of Shri @narendramodi's public rallies in Karnataka on 5th May, 2018.
Watch live at https://t.co/vpP0MInUi4https://t.co/DhKx7Dasbrhttps://t.co/lcXkSnNPDn

You may also listen the speeches live by dialling 9345015401.

Get live updates at @BJPLive too. pic.twitter.com/WTBZTvJnvi

— BJP (@BJP4India) May 4, 2018
Modi had launched his campaign blitzkrieg on Tuesday with a blistering attack on Rahul Gandhi and the Congress party.
Modi resumed his campaign in the state after a long break yesterday--the last rally he addressed was in February-- as he sought to give a big push to BJP's efforts to return to power in the state for a second time unseating the Congress.
The saffron party is making an all-out bid to oust the Congress government from the state.
According to the state Chief Electoral Office, 2,655 candidates are fray for the May 12 Assembly polls, which is expected to set the mood for the 2019 Lok Sabha elections. 
Polling will be held in a single phase for all the 224-Assembly constituencies in the state, including 36 reserved for the Scheduled Castes (SCs) and 15 for Scheduled Tribes (STs). Counting of votes will take place on May 15.