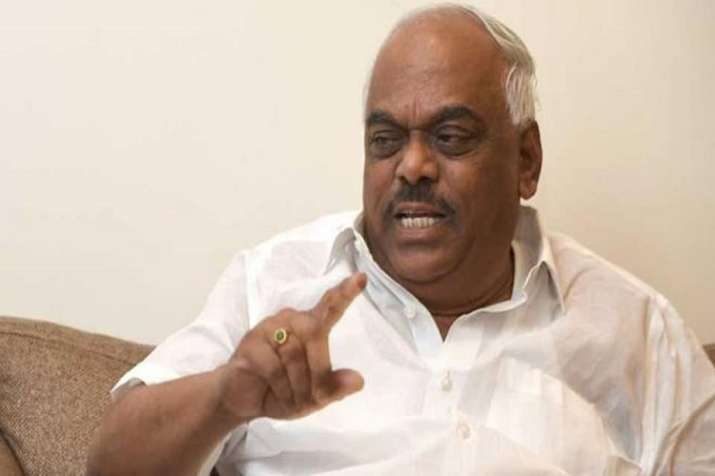 Congress MLA K R Ramesh Kumar was on Friday elected as the Speaker of the Karnataka Assembly unanimously after senior BJP leader Suresh Kumar withdrew his nomination.
Congress' Ramesh Kumar elected as Speaker of #Karnataka Assembly. pic.twitter.com/XxSi1VkN55

— ANI (@ANI) May 25, 2018
Ramesh Kumar was the Speaker of the House from 1994 to 1999. A five-term member of the Karnataka Legislative Assembly. In June 2016 Ramesh Kumar was inducted into the Siddaramaiah led government of Karnataka as a cabinet minister.
ALSO READ: Karnataka floor test LIVE: Wanted to maintain dignity of Speaker's post, hence withdrew nomination, says BS Yeddyurappa
Congratulating Ramesh Kumar after his election, Chief Minister HD Kumaraswamy said, "the way you conducted the house is already in history, and I am hopeful that you will continue giving your best and upholding the post."
Referring to Ramesh Kumar as an inspiration, Karnataka Deputy Chief Minister G Parameshwara said; "your experience as a earlier speakers and the way you enured the decorum in the house is also a model for all of us. On behalf of all the legislators, I congratulate you on becoming the speaker. I express my gratitude to to the house."
Former Chief Minister Siddaramaiah also congratulated the new speaker. He said,"in a democratic set up, the role of a speaker is a very important one. If democracy has to succeed, legislative assembly, council and parliament has to work effectively".
Meanwhile opposition leader BS Yeddyurappa said that he hoped that the opposition will get to keep their views in the Assembly more often. He said, "I hope you will be giving more opportunities to the opposition members to present their view in the house. You have been fair in your previous stint also, and opposition members will cooperate with you".