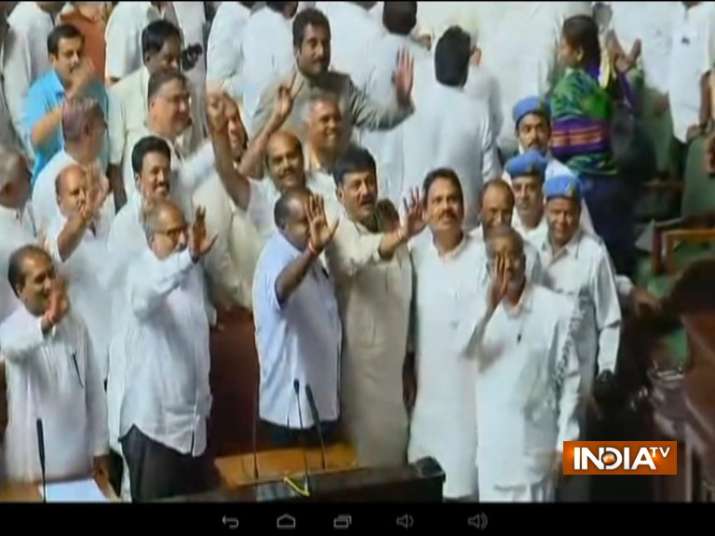 Karnataka Chief Minister HD Kumaraswamy today won the floor test in the state Assembly with 117 MLAs voting in favour of the confidence motion moved by him.
Earlier, in a dramatic turn of events, the BJP MLAs staged a walkout from the Assembly minutes ahead of the floor test.
The BJP MLAs  walked out of the Assembly  after Yeddyurappa said that his party will hold a state-wide bandh on May 28, if CM HD Kumaraswamy fails to waive off loans of farmers.
While the Congress has 78 MLAs, Kumaraswamy's JD(S) has 36 legislators in the Assembly. JD(S)'s alliance partner BSP has one MLA in the Assembly. The BJP has 104 MLAs.
As It Happened: 
05:27 pm: As the 104 members of the BJP walked out before the floor test, Kumar declared that Kumaraswamy had won the motion by 116 voice votes with none against. Speaker Ramesh Kumar did not vote, according to IANS. 
04:06 pm: They cannot force & blackmail us, we are a responsible govt & cannot act to wishes of BJP: DK Shivakumar
04:05 pm: Congress leader DK Shivakumar says the BJP cannot waste public money, adding the saffron party will be responsible for any law and order problem arising out of May 28 bandh.
02:45 pm: Kumaraswamy wins floor test with 117 MLAs voting in favour of  confidence motion.moved by him.
02:27 pm: BJP MLAs staged walked after Yeddyurappa said that his party will hold a state-wide bandh on May 28, if CM HD Kumaraswamy fails to waive off loans of farmers.
02:25 pm: BJP MLAs walkout of Karnataka Assembly ahead of floor test
02:10 pm: Kumaraswamy is now speaking on the trust motion moved by him Karnataka Assembly. The CM says he got a call from senior Congress leader G Parameshwara, who is now the deputy CM and Ghulam Nabi Azad called him to offering an alliance when the results on May 12 made it clear that no party has got a clear majority for form the government.
02:05 pm: After almost an hour of discussion, CM HD Kumaraswamy moves the trust motion. "This is not a mandate for the BJP,"he says.
01:05 pm: Yeddyurappa speaking ahead of the trust vote. "It is a great pleasure that Ramesh Kumar has become Speaker. He has been a former minister. He's a gentleman," says Yeddyurappa.
12:50 pm: CM HD Kumaraswamy speaking in Karnataka Assembly. Kumaraswamy thanks BJP for electing Ramesh Kumar unanimously as Speaker of the House."Members of the House will benefit from Ramesh Kumar's experience and guidance. He has loads experience," says Kumaraswamy 
12:47 pm: We withdrew (nomination of BJP candidate) as we wanted the election to be unanimous in order to maintain dignity of the Speaker's post, BJP's BS Yeddyurappa in Karnataka Assembly.
12:32 pm: Senior BJP leader Suresh Kumar withdraws nomination for the Karnataka assembly Speaker's post which means that Congress MLA Ramesh Kumar has been elected as Assembly Speaker unopposed. 
Congress' Ramesh Kumar elected as Speaker of #Karnataka Assembly. pic.twitter.com/XxSi1VkN55

— ANI (@ANI) May 25, 2018
12:20 pm: Congress' Siddaramaiah and BJP's BS Yeddyurappa reach Karnataka Assembly for the floor test to be taken by Kumaraswamy government in a short while from now.
Bengaluru: Visuals from #Karnataka Vidhana Soudha ahead of #FloorTest. Congress' Siddaramaiah & BJP's BS Yeddyurappa also present. pic.twitter.com/eu7rOrzkib

— ANI (@ANI) May 25, 2018
11:55 am: Congress Legislative Party begins in Vidhana Soudha.
11:05 am: Congress MLAs reach Vidhana Soudha in Bengaluru ahead of floor test and election of assembly speaker.
09:45 am: I have no tension, I am going to win clearly: CM HD Kumaraswamy.
I have no tension, I am going to win clearly: CM #HDKumaraswamy on today's floor test. #Karnataka pic.twitter.com/b6VgoKniUy

— ANI (@ANI) May 25, 2018
8:50 am: Karnataka Assembly proceedings scheduled to begin at 12:15 pm.
07:07 am: Both JD(S) and Congress have issued whips to their respective lawmakers to vote in favour of the motion when put to vote.
07:00 am: The 224-member Karnataka Assembly has an effective strength of 221.
The Congress, JD(S) MLAs would also heave a sigh of relief as they will be out of their 'five-star' confinement will end on Friday. Both the Congress and JD(S) have kept their MLAs locked at separate resorts and hotels to prevent any 'poaching' by the Bharatiya Janata Party (BJP) which failed to form the government despite emerging as the single largest party in the state in May 12 Assembly elections.
Watch: Opposition's show of strength at Kumaraswamy's oath taking ceremony