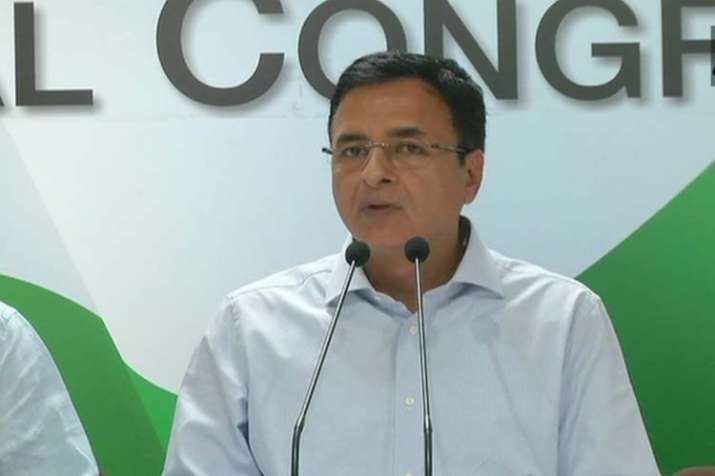 Congress leader Randeep Surjewala on Wednesday launched a scathing attack on Karnataka Governor Vajubhai Vala for inviting BJP legislative party chief BS Yeddyurappa to form the government in the state. 
BJP had emerged as the single largest party in Karnataka Assembly Election Results 2018 announced yesterday by winning polls in 104 constituencies in a 224 seat assembly. Congress, on the other hand, had forged an alliance with Janata Dal-Secular (JDS) to present a claim to power with the support of 117 MLAs. 
After being passed over, the Congress leaders launched a volley of attacks on BJP and Governor, sharpest barbs came from Surjewala who termed the decision an 'encounter of Constitution and democracy'. He alleged the governor was acting under pressure from his former party, which now rules at Centre. He was referring to the Karnataka Governor's past as he was Speaker of Gujarat assembly and prior to that a minister in Narendra Modi's Gujarat cabinet. 
Watch: Congress files affidavit in SC for urgent hearing against Guv's decision
Surjewala also questioned BJP's reasoning that post-poll alliances do not have constitutional validity, "We want to ask Amit Shah ji that if two parties cannot come together in post-poll coalition, then how did you form govts in Goa and Manipur by superseding single largest party? Governor has shamed his office," the Congress spokesperson said at a presser in New Delhi. 
Adding that Congress 'will use all legal and constitutional rights available to them' to subvert the decision. The party is expected to knock on the dors of Supreme Court tomorrow. 
Echoing his views, Congress leader Kapil Sibal and P Chidambaram slammed BJP and alleged that Governor's decision would encourage 'horse-trading'.  
Also read | Congress files affidavit in SC for urgent hearing against Guv's decision to invite Yeddyurappa to form govt
Watch video: