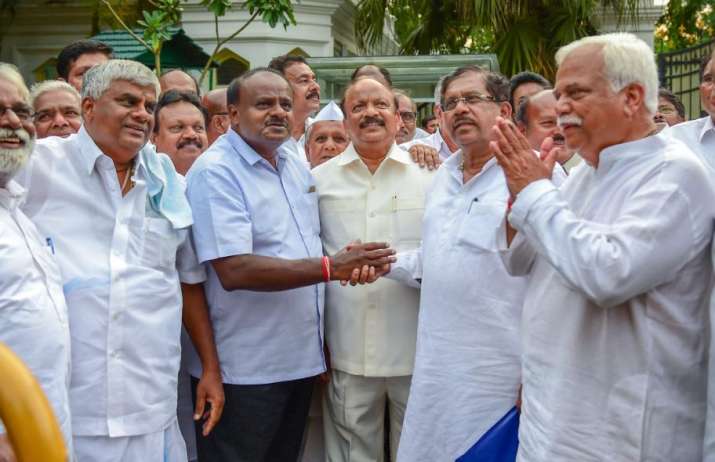 JD(S) leader HD Kumaraswamy will meet Congress leaders Sonia Gandhi and Rahul Gandhi in Delhi today to discuss the modalities of government formation in Karnataka.
Former Chief Minister Siddaramaiah, state Congress President G Parameshwara and senior Congress leader DK Shivakumar are expected to also fly out to Delhi to be a part of the negotiations. 
The Congress, which won 78 seats in comparison to Kumaraswamy's party's 38, will get the lion's share of the ministries, although the portfolios are yet to be worked out. 
Under the last-minute deal between the Congress and the JD(S) on the day of vote counting, the Congress will choose a Deputy Chief Minister - a post that's likely to be filled by Parameshwara. Leaders of the JD(S), however, did not rule out the possibility of two Deputy Chief Ministers to strike a balance between the two parties.
Also read | Ahead of swearing-in, Kumaraswamy to visit Delhi to discuss Cabinet formation with Sonia, Rahul Gandhi
No power-sharing or rotational CMs
Clarifying that no discussion has taken place so far on the allocation of ministerial berths, Kumaraswamy on Sunday termed reports on the power-sharing formula of 30 months each between the parties as "bogus". 
While making it clear that there have been no discussions yet on the portfolio allocation, Kumaraswamy requested the media not to create confusion among the public and MLAs with such "speculative" reports. 
Asked about reports on a power-sharing formula of 30 months each that is being worked out with the Congress, Kumaraswamy said, "No such talks have taken place." 
Read more | Kumaraswamy dismisses reports of JD(S) working out 'rotational chief minister' arrangement with Congress in Karnataka
Only Kumaraswamy to take oath on Wednesday
Shivakumar yesterday revealed that JD(S) chief will take oath as the chief minister alone on Wednesday. The rest of his cabinet is likely to take oath only after the trust vote, which is likely to be held later.
Talking to the press, Kumaraswamy asserted that within 24 hours of taking the oath, he would prove the majority on the floor of the House. "Mostly on Wednesday there will be an oath-taking ceremony after that on Thursday we will complete the process of Speaker's election and trust vote," he added. 
Rajarajeshwari Nagar and Jayanagar assembly elections: 
On reports about parleys with Congress leaders regarding elections in Rajarajeshwari Nagar and Jayanagar assembly constituencies, Kumarasamy described it as "bogus". 
"It is a bogus news...No such discussions have taken place. Winning Rajarajeshwari Nagar and Jayanagara is a necessity. Till now, no such discussions have happened," he said. 
While polling was deferred in Rajarajeshwari Nagar constituency over allegations of electoral malpractice, election to Jayanagar seat was countermanded following the death of the BJP candidate. 
A look at HD Kumaraswamy's tentative cabinet:
Prospective Portfolios:
1. Chief Minister & Finance- Kumaraswamy (JDS)
2. Deputy CM & Home- Dr G Parameshwar (Congress)
3. Irrigation - HK Patil (Congress)
4. PWD - HD Revanna(JDS)
5. Energy - DK Shivakumar (Congress)
6. Heavy Industries - AT Ramaswamy (JDS)
7. Transport - Ramalingareddy (Congress)
8. Minor Irrigation - KM Shivalingegowda (JDS)
9. Revenue - S Shivashankarappa (Congress)
10. Health - UT Khader (Congress)
11. Women welfare -  Lakshmi Hebbalkar (Congress)
12. Agriculture and Animal Husbandry - CS Puttaraju (JDS)
13. Education - H Vishwanath (Congress)
14. Rural Development - Satish Jarakiholi (Congress)
15. Urban Development - KJ George (Congress)
16. Sports and News - M Krishnappa (Congress)
17. Information - Krishna Byregowda (Congress)
18. Social Welfare - Chandrabhanu Jinde (JDS)
19. Cooperative - GT Devegowda (JDS)
20. Textiles & Muzrai - Bandeppa Kashampoora (JDS)
21. Labour - DC Thammanna (JDS)
22. Excise - Dinesh Gundu Rao (Congress)
23. Medical Education - Tanveer Sait (Congress)
24. Higher Education - Dr K Sudhakar (JDS)
25. Forest - Roshan Baig (Congress)
26. Food & Civil Supplies - MB Patil (Congress)
27. Law & Justice - RV Deshpande (Congress) 
28. Small Scale & Sugar - Dr Ajay Singh (Congress)
29. Science & Tech - Priyank Kharge (Congress)
Watch video: