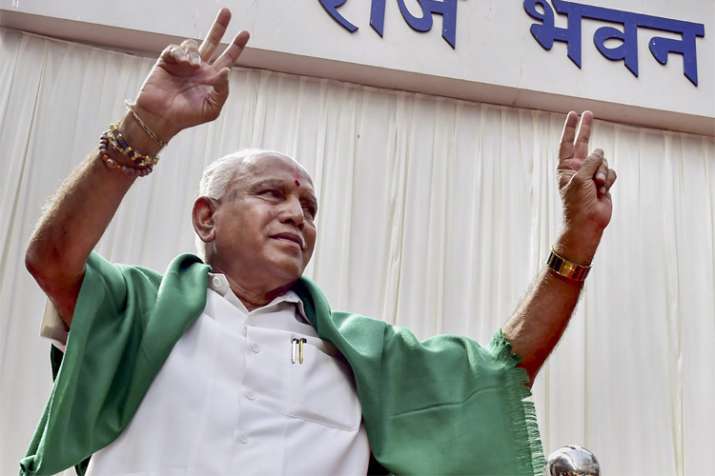 Karnataka Assembly Floor Test Live Telecast: Two days after taking oath as the new chief minister of Karnataka, BJP leader B S Yeddyurappa will have to take trust vote at 4 pm today to prove majority in the state Assembly, as ordered by the Supreme Court on Friday. 
While rejecting a plea by the Congress-JDS combine challenging the appointment of K G Bopaiah as the Pro-tem Speaker, the Supreme Court on Saturday ordered live telecast of the floor test in the Karnataka Assembly. "Live broadcast of floor test will be the best possible way to ensure transparency in the proceedings," a bench comprising justices A K Sikri, S A Bobde and Ashok Bhushan said.  
The trial of strength to decide the fate of the BJP government is scheduled at 4 pm after a Supreme Court order drastically reduced the 15 days' time given by Governor Vajubhai Vala to Yeddyurappa to prove his majority. 
Elections held on May 12 to 222 of the 224 constituencies in the state threw up a hung assembly with the BJP emerging as the single largest party having 104 MLAs, seven short of the half mark of 111, while the Congress won 78 seats and JD(S) 37. 
Yeddurappa was sworn in as chief minister on May 17, two days after the results were declared, after the governor accepted his claim to form the government.
The decision was challenged in the Supreme Court by the Congress and the JDS and passing interim orders on their petition, the court yesterday directed that the floor test be conducted today. 
Striking a post-poll alliance, the combine has claimed the support of 117 MLAs, including one each from the BSP and the KPJP and one Independent. As JD(S) leader H D Kumaraswamy has won in 2 seats, the combined strength of Congress and JD(S) MLA's while voting at the floor test is expected to stand at 117. 
Here is when and where you can watch the Karnataka Assembly Floor Test scheduled at 4 pm today:
For LIVE Updates on Karnataka Floor Test, click here
For Full Coverage on Karnataka Assembly Elections, click here
For live streaming of Karnataka Assembly Floor Test, click here
You can click here to get all updates, real-time reactions and live Coverage on Live TV of your favourite Hindi channel IndiaTV.
You can follow us on Twitter, Facebook and YouTube for non-stop day-long coverage on the Counting Day on Tuesday.