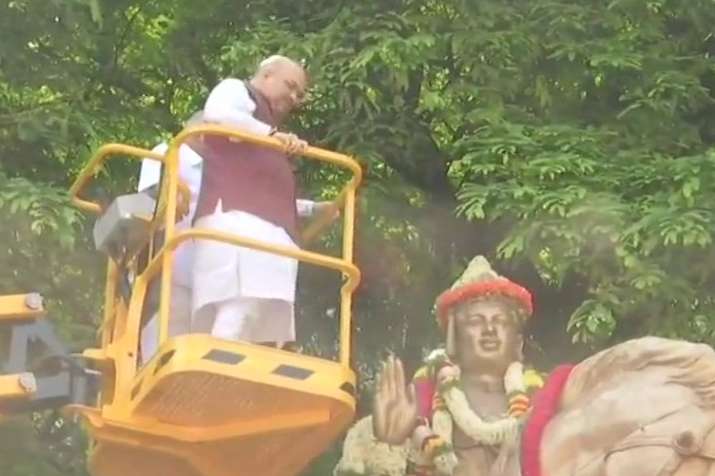 Bharatiya Janata Party (BJP) president Amit Shah witnessed yet another embarrassing moment in Karnataka on Wednesday when he failed to garland a statue of Lord Basaveshwara in Bengaluru. Basaveshwara is revered by both Lingayat, Veerashaiva sects in the state.  
On the occasion of birth century of the 12th century social reformer, Basaveshwara, Amit Shah and Yeddyurappa were scheduled to garland his statue. Both the leaders were carried on a crane close to the top of the tall statue so that they can easily garland it. However, when the BJP president threw the garland towards the statue it failed to land at the right spot. On the other hand, Yeddyurappa, who has been picked by the BJP as its CM candidate for the upcoming Assembly elections, got it absolutely right. As soon as Yeddyurappa's garland landed on Basaveshwara's statue, the party workers present on the spot applauded his 'skills'. The incident also brought a smile on Amit Shah's face. 
Last month, in a slip of tongue, Amit Shah called Yeddyruppa 'corrupt'. "A Supreme Court retired judge has said that if a comparison is made on corruption, then the Yeddyurappa government would get the number one award," Amit Shah had said during a press conference. The BJP chief was prompted immediately by  former BJP Karnataka chief Prahlad Joshi over the goof up. 
Amit Shah's Karnataka tour amid politics over Lingayats
Amit Shah is on a two-day visit to Bengaluru from Wednesday (April 18) as part of the seventh leg of his tour of Karnataka to boost the BJP's prospects in the May 12 Assembly polls. 
BJP has been criticising the Siddaramaiah government's move towards granting "religious minority" tag to Lingayats and Veerashaiva Lingayats ahead of the Assembly polls as an attempt to divide the Hindu community. 
The State Cabinet had on March 19 decided to recommend to the Centre grant of religious minority tag to the Lingayats and Veerashaiva Lingayats. 
The Siddaramaiah government's move is seen as a bid to cut into the Lingayat vote base of the BJP, which is stated to enjoy their support.
During his visits, Shah has been reaching out to the Lingayats and Veerashaiva Lingayats, meeting their seers and holding meetings with their groups apparently to ensure that the Congress does not cut into its voter base.