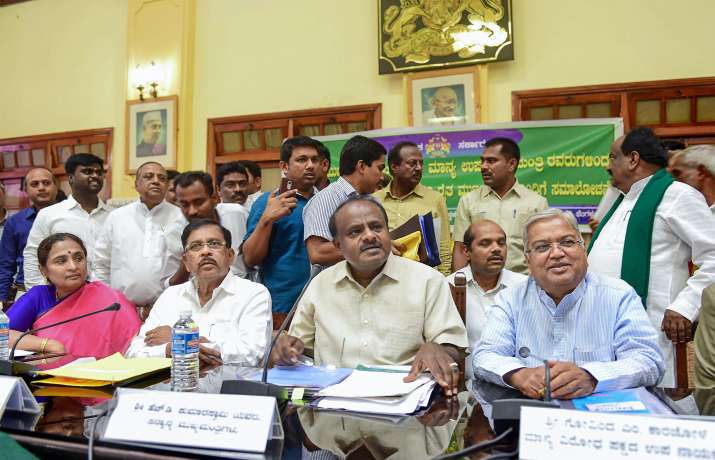 Putting an end to days of suspense and speculation, the Congress has reportedly agreed to let HD Kumaraswamy complete his full five-year-term as Karnataka chief minister. According to reports, the Congress and Janata Dal (Secular) have finally reached a power-sharing formula under which they  will also contest the 2019 Lok Sabha elections together.
The contentious issue of portfolio allocation has also been resolved and it has been decided that the lucrative finance department will be run by the JD(S) while the Congress will manage the Home Department, a report in Times of India claimed. New portfolios for ministers are likely to be announced soon.
"The announcement will be a written agreement resolving all issues to run a stable coalition for five years. That is why it has taken so long. We wanted everything to be on paper so that the government could run smoothly for its full term under the chief ministership of H D Kumaraswamy." the newspaper quoted JD(S) secretary general Danish Ali, as saying.
The stability of the new Congress, JD (S) was being questioned as there were reports  that the Congress was not eager to let Kumaraswamy continue as CM for a full term of five years.
"We have not yet discussed those modalities," Karnataka deputy chief minister G Parameshwara had said in response to a question whether Kumaraswamy will be the chief minister for full five year term just a day ahead of floor test.
Earlier, reports said that senior Congress leader DK Shivakumar, who was also a contender for the deputy chief minister's post, was unhappy with the party leadership.
Shivakumar, who emerged as a key figure in keeping the party MLAs together before the trust vote of BJP's Yeddyurappa government, was reportedly upset over not getting the deputy CM post.
WATCH: Kumaraswamy takes oath as Karnataka CM