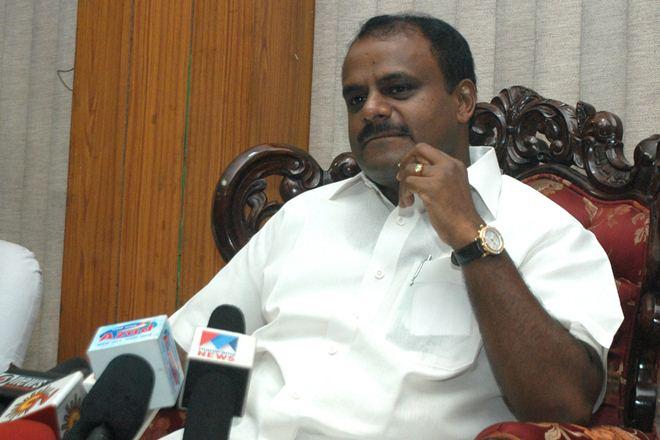 Janata Dal-Secular (JD-S) leader H.D. Kumaraswamy on Wednesday accused the BJP of offering Rs 100 crore and cabinet posts to its newly elected legislators in a "desperate" attempt to form a government in Karnataka.
"Our legislators have been offered Rs 100 crore and cabinet seats by the BJP in return for support," the former Chief Minister alleged at a press conference.
The JD-S leader named Prime Minister Narendra Modi and BJP President Amit Shah for the offer as the BJP, he said, was desperate to form a government and deny the JD-S a chance to form a government with Congress backing.
"This attempt by the BJP to poach our legislators will backfire as there are people who are willing to leave the BJP to support us (JD-S)," he alleged.
The JD-S and Congress together have the required majority to form the government, he said.
"We will be meeting the Governor again on Wednesday evening to urge him to give us a chance to form the government as we have the majority of MLAs."
Accusing the BJP of using the central government machinery to target opposition leaders, Kumaraswamy denied meeting any BJP leader, but admitted that many newly elected legislators from the BJP and Congress were in touch with him on government formation.
Refuting the allegations leveled by Kumaraswamy, HRD Minister Prakash Javadekar termed the Rs 100-crore charge as 'imaginary', and exuded confidence of forming government in the state. 
"They are leveling baseless charges against BJP. Poaching and horse trading is not done by BJP, Congress is famous for it. Their own MLAs are not happy with their alliance," said Javadekar. 
"Rs 100 crore figure is not only imaginary but it is what Congress-JDS do politics through. We are going by rules, we have submitted our claim to the Governor, and are confident of forming the government," he added.
Saturday's election threw up a hung Assembly, with the BJP finishing with the largest number of seats but short of a majority. The Congress and the JD-S came at the second and third spot.