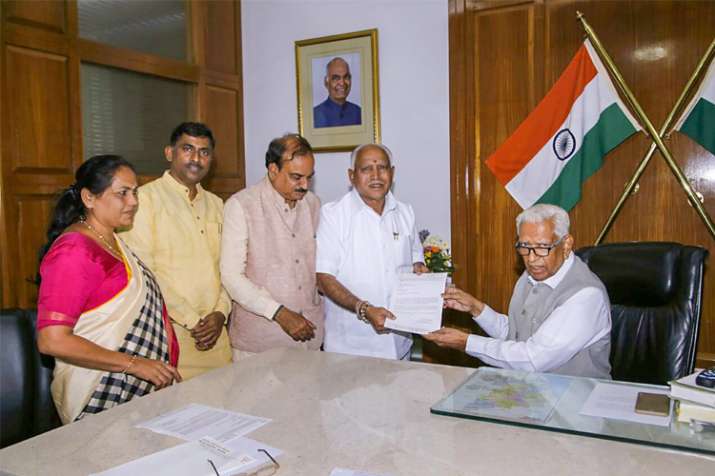 BJP government in Karnataka: Bharatiya Janata Party has pulled out another rabbit from its hat. After successfully making governments in Goa and Manipur assemblies despite minority seats, BJP today turned the tables and successfully staked power in Karnataka Assembly despite a claim by a majority alliance. 
Putting an end to speculations, Karnataka Governor Vajubhai Vala today invited BJP legislative party chief BS Yeddyurappa to form the government in the state. Yeddyurappa will take oath as the new Chief Minister at 9 am tomorrow. He has 15 days to prove his majority in the House. (Who is going to form the government in Karnataka)
BJP had emerged as the single largest party in Karnataka Assembly Election Results 2018 announced yesterday by winning polls in 104 constituencies in a 224 seat assembly. The decision has irked the Congress-JD(S) alliance which presented it claim with the support of 117 MLAs, way above the magic mark of 112, this afternoon. Follow Karnataka Government Formation LIVE Updates here
After the announcement, Congress leaders launched a volley of attacks on BJP. Senior party leader P Chidambaram alleged that if Governor invites BJP to form the government that he would be encouraging 'horse-trading'. 
"If the Governor invites anyone but Mr Kumaraswamy (to form the government in Karnataka) he is supporting and encouraging poaching (of MLAs)," P Chidambaram said at a press conference in New Delhi. 
"The Governor of Karnataka must bind by the Constitution and the order of the Supreme Court. We have the majority numbers but, the Governor isn't calling us to form the government," Kapil Sibal added. 
The alliance has threatened to knock the doors of Supreme Court and stage a protest outside Raj Bhawan if not invited to form the government.
In an interesting turn of events, the Governor's decision was first announced through a tweet by BJP Karnataka, but the social media post was deleted a few minutes later, only to be reshared, once the news was confirmed by other sources. 
Karnataka BJP deletes the tweet announcing BS Yeddyurappa's swearing-in as Chief Minister of Karnataka, tomorrow. #KarnatakaElectionResults2018 pic.twitter.com/KtoaJFXA5C

— ANI (@ANI) May 16, 2018
The moment that crores of Kannadigas are awaiting is here.

Sri @BSYBJP will take oath as Chief Minister of Karnataka tomorrow morning at 9.00 AM at Raj Bhavan.

The movement to build our Suvarna Karnataka has started. #CMBSY

— BJP Karnataka (@BJP4Karnataka) May 16, 2018
Watch video: Yeddyurappa to form government: BJP Karnataka in-charge Prakash Javdekar shows victory symbol