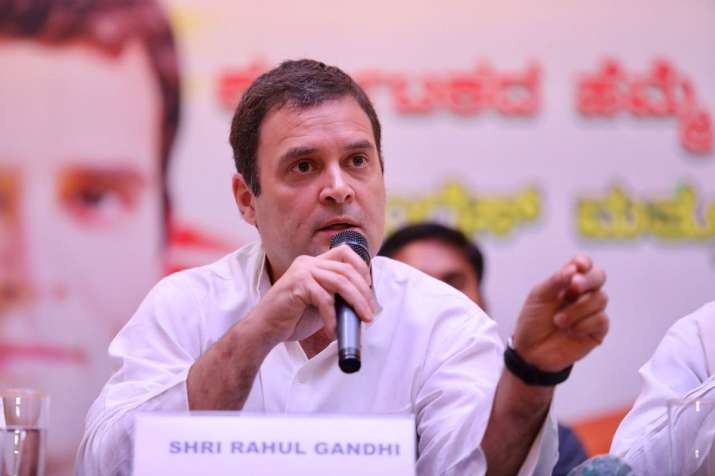 Congress president Rahul Gandhi launched an all-out attack on Prime Minister Narendra Modi and Bharatiya Janata Party (BJP) in poll-bound Karnataka's Bengaluru today. 
Addressing a press conference on the last day of the campaign for Karnataka Assembly elections, Gandhi rejected BJP's poll strategy of personal allegations and claimed that Congress will retain power in the state 'hands down'. (Read full story here)
Here are the 10 big allegations made by Rahul Gandhi against Prime Minister Narendra Modi and BJP: 
Vision-less manifesto: 
BJP has failed to produce an election manifesto with people's views. The Opposition has restricted itself to making personal remarks and has not really put down a vision for the state, they haven't said what they want to do for the state. The Congress drew from the essence of the aspirations of the people of Karnataka to create its manifesto. The BJP's manifesto, however, was crafted behind closed doors and half of it was copied from the Congress manifesto. 
Atrocities on Dalits: 
We had said that Dalits are being beaten up and oppressed when Rohith Vemula is killed Modi Ji doesn't say a word. When Dalits are killed and humiliated in other parts of India, Modi Ji doesn't say anything. Congress will defend the rights of Dalits and raise this issue. 
Rapes and atrocities on women: 
On the question of whether he considers rape a non-political issue as PM Modi, Rahul Gandhi said: Atrocities against women is absolutely a political and a national issue, who say's it's not? Modi likes to discuss bullet train and other issues but does not like to discuss fundamental issues. 
Visits to religious places:
Our people have different religious beliefs. As a leader of the political party, it is my job to visit the religious institution that invites me. I will however not go to a single institution that divides the society. Throughout last 15 years, I've been visiting temples, mosques, gurudwaras, every religious institution I come across. For some reason, BJP doesn't like this.
BJP does not understand the word 'Hindu': 
I don't think BJP understands the meaning of word Hindu, it is a viewpoint. A perspective which lives with you throughout.
RSS agenda in Karnataka: 
The RSS-BJP wants to snatch away Karnataka's spirit, identity and Basavanna's principles and impose upon RSS' regressive ideology. The Congress will never allow this to happen.
PM Modi's foreign policy: 
The PM went to China after the Chinese entered Doklam, but didn't speak a word on Doklam. Our foreign policy has been decimated and this is because of PM incorrect handling of the situation. Our PM has treated it as a personal exercise. He thinks he can go and have a personal conversation with world leaders and all will be fixed.
BJP policy on crude oil prices: 
The policy of the Congress was to pass on the benefits of international crude oil prices to the people of India. But the Modi Govt is passing on the benefits to its friends:  
Modi angry at him and the world: 
Mr Modi has got anger inside of him. He is angry with everybody, not only me. I am a lightning rod for anger, I attract anger. But that is his problem. It is not my problem. My mother is more Indian than a lot of people I see. PM Modi's personal comment on my mother show the kind of person he is: Rahul Gandhi on Modi's personal attacks on him and his Italian ancestry 
Election rigging: 
On PM Modi's allegations of election rigging, Congress president said - 'A man says what is inside his heart'
Watch full press conference by Rahul Gandhi here: