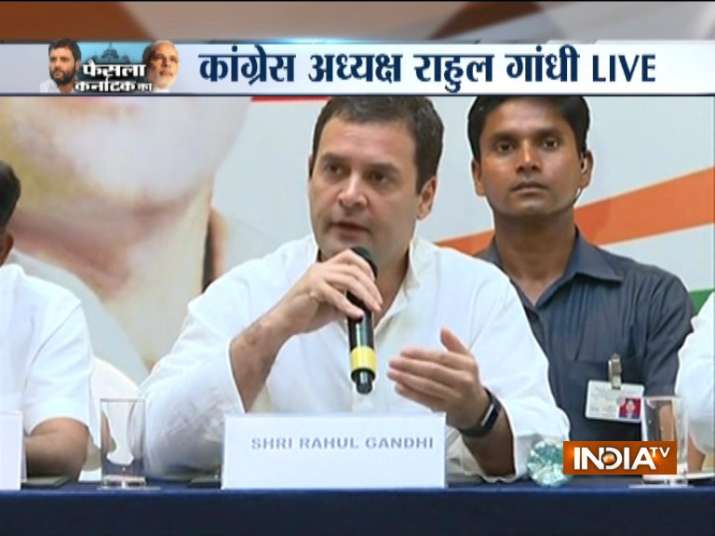 Congress leaders, including president Rahul Gandhi and chief minister Siddaramaiah, on Thursday, addressed a press conference in Bengaluru on the last day of the campaign for the Karnataka Assembly Elections 2018.
Karnataka will go to polls on May 12 to elect its representatives for the 225-member assembly. The results will be out on May 15.
IndiaTV Final Opinion Poll has predicted that Congress will get 96 seats, BJP 85 and JDS+  38, which is likely to play the kingmaker on the D-Day. 
Here are the Highlights: 
Watch full press conference by Rahul Gandhi here: 
11:21 am: The outcome of Karnataka elections is that the Congress is winning hands down: Congress President
11:20 am: I can tell you why BJP Union Ministers are campaigning in Karnataka - P A N I C. I'm happy they're here, it helps us! : Rahul Gandhi
11:18 am: I attract anger from PM Modi because he views me as a threat: Rahul Gandhi
11:17 am: Congress party has done a tremendous amount of work for Bengaluru infrastructure, but now the pressure is higher because the city now interests the entire world: Rahul Gandhi
11:16 am: On PM Modi's allegations of election rigging - 'A man says what is inside his heart': Congress President
11:15 am: Mr Modi has got anger inside of him. He is angry with everybody, not only me. I am a lightning rod for anger, I attract anger. But that is his problem. It is not my problem: Congress President Rahul Gandhi in Bengaluru 
11:11 am: We will not allow RSS to take over Karnataka, its culture and religion: Rahul Gandhi
11:09 am: Modi's personal attacks on me are his problem, not mine. My mother is more Indian than a lot of people I see. PM Modi's personal comment on my mother show the kind of person he is: Rahul Gandhi on Modi's personal attacks on him and his Italian ancestry 
11:05 am: Govt is saving a huge amount of money on the reduced amount of international oil prices, but it is up to the government, where to distribute this money to, BJP has collected the money and has given it to their friends. The policy of the Congress was to pass on the benefits of international crude oil prices to the people of India. But the Modi Govt is passing on the benefits to its friends: Rahul Gandhi
11:03 am: Congress leaders are not like our current Prime Minister who does not address a press conference, Congress spokesperson Surjewala takes dig at PM Modi
11:01 am: Our foreign policy has been decimated because our PM has treated it as a personal exercise: Rahul Gandhi
10:58 am: For some reason, BJP gets very uncomfortable when I visit religious places. I don't think BJP understands the meaning of word Hindu, it is a viewpoint: Rahul Gandhi
10:58 am: Our people have different religious beliefs. As a leader of the political party, it is my job to visit the religious institution that invites me. I will however not go to a single institution that divides the society: Rahul Gandhi
10:57 am: PM Modi must explain why the CBI has turned into the Central Bureau of Illegal Mining? Why are corruption tainted people who looted Karnataka are representing the BJP in Karnataka?: Rahul Gandhi
10:56 am: Reddy brothers have stolen 33000 crores from people, why doesn't Modi ji explain why they have given 8 seats to Reddy brothers: Rahul Gandhi
10:54 am: Rape, atrocities on women is a political issue, who says it is not?, asks Rahul Gandhi, adding, 'Mr Modi likes to discuss bullet train and other issues but does not like to discuss fundamental issues'.
10:50 am: Narendra Modi ji goes quite when Dalits face atrocities in India; we had said that Dalits are being beaten up & oppressed when Rohith Vemula is killed Modi Ji doesn't say a word. When Dalits are killed & humiliated in other parts of India, Modi Ji doesn't say anything. Congress will defend the rights of Dalits & raise this issue: Rahul Gandhi
10:46 am: PM Modi bypassed HAL to favour his friend's inexperienced private venture and deprived the youth of Karnataka of growth opportunities: Rahul Gandhi
10:45 am: BJP has given tickets to corrupt leaders returning from jails, like Reddy brothers: Rahul Gandhi
10:38 am: The Congress drew from the essence of the aspirations of the people of Karnataka to create its manifesto. The BJP's manifesto, however, was crafted behind closed doors and half of it was copied from the Congress manifesto: Congress President
10:36 am: BJP has not really put down a vision for the state, they haven't said what they want to do for the state: Rahul Gandhi 
10:35 am: Congress leaders have presented a united front and has presented a vision for the state, whereas BJP has focussed only on personal attacks on me, CM and Kharge ji: Rahul Gandhi
10:32 am: It's been an honour to travel around Karnataka, it's been an honour for me: Rahul Gandhi