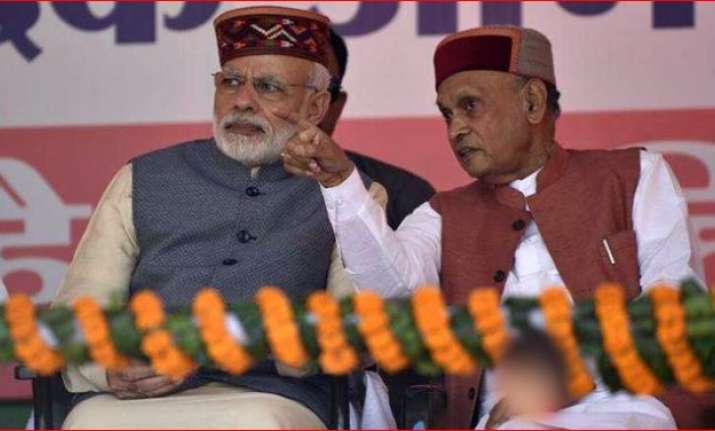 Counting of votes is underway for the Himachal Pradesh Assembly elections where traditional rivals BJP and Congress have contested all 68 seats.
According to early trends available for all 68 seats, BJP is leading in 42 seats while the Congress is ahead in 22 seats. However, the party's CM candidate Prem Kumar Dhumal has elections from Sujanpur constituency to his old protege Rajinder Rana.
"We have crossed the half-way mark. This clearly indicates we are going to form the government in the state," BJP spokesperson Ganesh Dutt said.
Chief Minister Virbhadra Singh (Arki) and his son Vikramaditya Singh (Shimla Rural) were, however, ahead of their BJP rivals.
Congress candidate Anirudh Singh won the Kasumpti seat by defeating BJP's Vijay Jyoti by a margin of 9,397 votes. Independents are leading in two constituencies while the CPI(M) is ahead in one.
 In 2012 Assembly elections, the Congress had won 36 seats while the BJP emerged victorious in 22 seats.
The hill state witnessed a record 75.28 per cent turnout.  Adequate security arrangements have been made for counting which started simultaneously in all 68 constituencies at 42 counting centres. 
Corruption was the main focus of the BJP campaign with the party training its guns at Chief Minister Singh, while the Congress hit out at the BJP over the issue of GST and demonetisation. 
The BSP contested 42 seats followed by the CPI(M) 14, the Swabhiman party and the Lok Gathbandhan Party six each and the CPI-3. 
Out of 67 sitting MLAs, 60 MLAS, nine cabinet ministers, HPCC president Sukhvinder Singh Sukkhu, state BJP chief, Satpal Singh Satti, Deputy Speaker, Jagat Singh Negi and eight Chief Parliamentary Secretaries (CPS) contested the poll along with a dozen former ministers. 
Himachal has a tradition of change in government after every elections and going by the trend, this time it is the turn of the BJP which is upbeat after exit poll results.  There are 25 Congress, 28 BJP and four independent MLAs in the outgoing house while one seat was lying vacant after death of former minister Karan Singh from Banjar.  
Sitting Rajya Sabha member Viplov Thakur(Congress), former Lok Sabha members, Chander Kumar(Congress and Dr Rajan Shushant (Independent) and former Rajya Sabha member Kripal Parmar(BJP) are also among key contestants.  While the BJP is confident of winning the polls with a comfortable majority, the Congress has rejected the exit-polls and claimed that it was all set to repeat. 
 
The BJP ousted the Congress in 1990 and the Congress avenged defeat in 1993. The BJP formed the government with the help of Himachal Vikas Congress in 1998 and the Congress was back in power in 2003. 
The BJP made a comeback in 2007.  2,820 counting staff has been deployed for tomorrow's exercise which includes counting supervisors, counting assistants and micro observers. 
Chief Electoral Officer, Pushpender Rajput said three- tier security arrangements have been made at all counting centres. 
He said wire mesh barricading has been done at counting centers and there was a separate entry passage for counting staff and counting agents. 
Videography and CCTV coverage is being done in all counting centres.