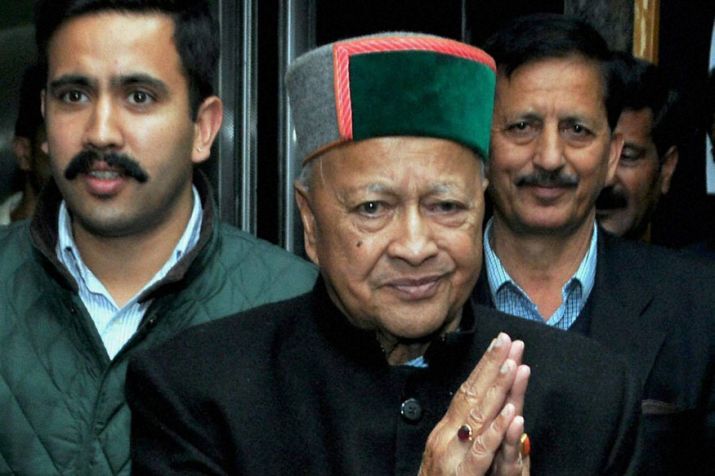 Star-studded rallies, high pitched speeches, controversies and poll theatrics may have overpowered the rhetoric of Gujarat Assembly Elections, but up in the north much of this was amiss. FULL COVERAGE ON HIMACHAL PRADESH ELECTIONS
While Congress has invested heavily to upset Bharatiya Janata Party's 22-year-long rule in Prime Minister Narendra Modi's home state, it has barely spent on saving its fort Himachal Pradesh.
The lacklustre campaign, the absence of Rahul Gandhi or Congress bigwigs in rallies and a serious shortage of campaign funds signal that Congress had already given up on any hope of retaining the power in Himachal.
While BJP kicked up a storm with over streamless rallies by PM Modi and party president Amit Shah, Congress president-elect came out for just three rallies on the last day of the campaigning.
"No senior Congress leader came here to campaign...They have left the field, leaving everything on fate," PM Modi said at a rally in Kangra district, the state's most populous district that is home to a fifth of the state's population.
In October, the Congress party had drafted a list of 40 star campaigners in the state, but only a few made an appearance that too just before the campaign curtains were drawn.
Not just star power, BJP's campaign was electrified, blending traditional rallies, front-page ads in newspapers and spots on radio and television with the use of social media to reach out to voters in the state's remote corners.
Besides, it had 68 vehicles mounted with huge television screens doing the round of the constituencies and hundreds of smaller groups of artists, performing street plays for three months.
On the other hand, Congress executed a low-key campaign with not even enough hands to run the war room in Shimla.
Congress left CM Virbhadra Singh on his own traversing the entire state and campaigning extensively without much support from the central team. While BJP leaders flew in choppers, Singh travelled to 93 of his rallies across the state in his car.
The Chief Minister campaigned single-handedly, conducting 15 to 20 meetings in two to three constituencies almost every day.
When questioned over a sharp difference in poll campaigns, Congress media department in-charge Randeep Surjewala, said: "The whole BJP campaign is about a flamboyant display of money. They should tell us where they are getting the money for posters, choppers, planes and whose money it is. In contrast, the Congress campaign is simple and straightforward.
It shows the humility of our chief minister who at 83 is traversing the length and breadth of the state by road."
The ruling party claimed to have faith in the goodwill of its candidates and 'raja-sahib' Virbhadra Singh. But there is so much a six-time 83-year-old CM can do. His aides say that he cannot afford a chopper, as his assets were frozen in an ongoing graft investigation.
The exit polls have painted a grim result of a grim campaign. In an assembly of 68 seats, the polls by various media houses predicted that Congress would get minimum 6 seats (News24) and maximum 29 (ABP). In the 2012 polls in Himachal, the Congress had won 36 and the BJP 26 seats.
India Today-Axis My India survey gave BJP a highest of possible 55 seat share. The CVoter exit poll, BJP is likely to get 41 seats, while Congress will secure 25 seats - an 11-seat fall from its previous term.
The Sahara Samay-CNX prediction gave 46 seats to the BJP and 21 to the Congress. The Times Now-VMR and Zee News-Axis exit polls predicted that the BJP would win 51 of the total 68 Assembly seats in the state.
While the Times Now-VMR exit poll gave 16 seats to the Congress and one to another, the Zee News-Axis poll gave 17 seats to the party in power in Shimla.
In a state, which has a habbit of usurping the incumbent, betting money on a outgoing erstwhile monarch may have seemed like lost cause to Congress, but the lack of enthusiasm to save one, while the party is loosing many, may hurt it in the long run.