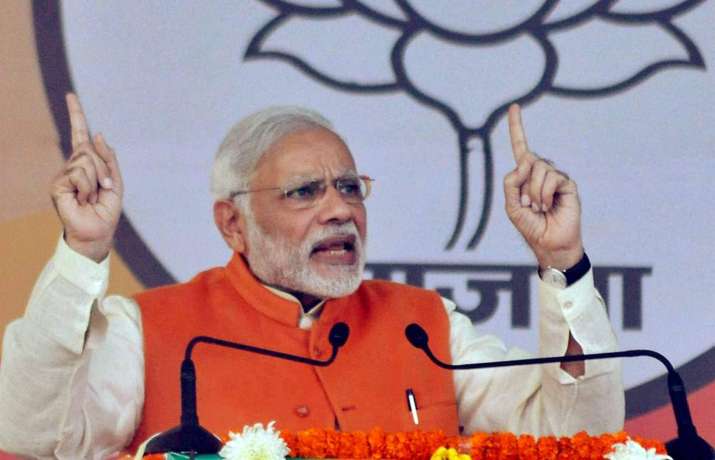 Prime Minister Narendra Modi on Friday challenged Congress Vice President Rahul Gandhi to fire Kapil Sibal for creating obstacles in resolution of Ayodhya matter. Launching a volley of attacks on Congress in Gujarat's Kalol, PM Modi accused Sibal of deliberating prolonging ''the Ayodhya Case when all stakeholders want an early solution'.
"For the last 2 days, a top Congress leader and an illustrious lawyer has been speaking. He is free to represent whoever he wants to. But, why does he want to prolong the Ayodhya Case when all stakeholders want an early solution," he said while addressing a poll rally. 
Without naming him, Modi asked Sibal to come clear 'on why he wants Ayodhya Matter to be discussed in court after 2019' instead of explaining whose lawyer he is. 
"He says he doesn't represent Sunni Wakf Board but he should say who is he representing? Why doesn't Congress also remove this lawyer leader," the prime minister asked. 
Earlier in the day, PM Modi had charged his guns towards suspended Congress leader Mani Shankar Aiyar for allegedly taking out 'supari' in his name in Pakistan. 
"Mani Shankar Aiyar told people when he visited Pakistan - remove Modi from the way and then see what will happen to India-Pakistan peace. What did he mean by removing me from the way. And what is my crime- that we have the blessings of the people," PM said in Banaskantha rally. 
Aiyar was suspended from the primary membership of the Congress party for calling PM Modi 'neech', a remark he apologised for after reprimand by Rahul Gandhi. 
PM Modi kickstarted campaigning for phase 2 of Gujarat Assembly elections on Friday with four rallies - two in Ahmedabad, one in Banaskantha and one in Samarkantha. In second phase, 93 constituencies will go to polls on December 14.