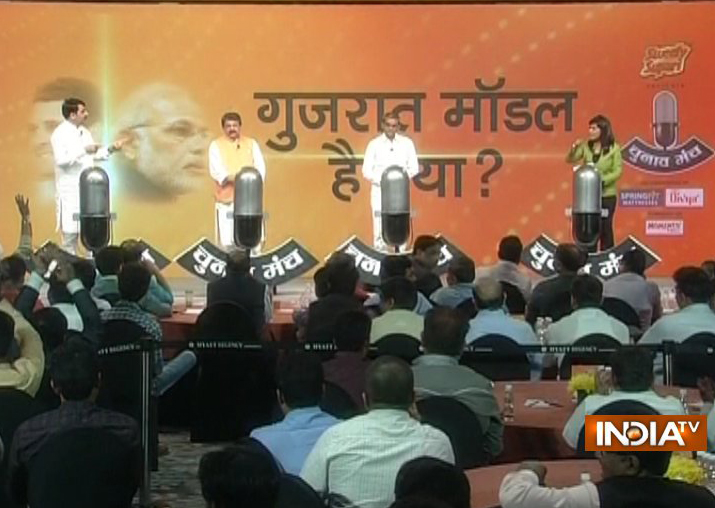 Three senior Ministers of the Gujarat government today blasted Congress vice president Rahul Gandhi for raising fingers at the Gujarat model of development and its architect Narendra Modi. 
Participating in Chunav Manch, India TV's day-long mega election conclave in Ahmedabad, state Health Minister Shankar Choudhary also slammed Rahul Gandhi for frequently visiting the poll-bound state and accused him of indulging in appeasement politics. 
"There is no need to comment on Rahul Gandhi, the entire country knows who he is. Rahul Gandhi has no issue to raise here. Corruption is not an issue, there is a transparency in the  system," he said. 
Choudhary also rejected Rahul's allegations that water, road and electricity are being provided to only industrialists in the state. "Every village in Gujarat is getting non-stop power, water and road connectivity."
Choudhary added that Gujarat is number 1 state in employment generation. "During Congress' stint, the state was under curfew, law and order situation was a matter of grave concern," he said.
Irrigation Minister Nanubhai Vanani, the second panellist, said that the BJP has done work on ground and delivered it to the people of the state. He exuded confidence that the saffron party, which is in power for last two decades, will retain power in the upcoming Assembly polls.
"We have done work on ground, why should we fear? Our policies are people friendly. Gujarat model is an example for others. BJP will retain the power in Gujarat," he said.
Sports Minister Rajendra Trivedi, who was also present on the dais, took the opportunity to count several schemes of his government which, he said, directly benefited youth of the state. 
"The results of assembly polls in recent times is attestation of Modiji's development model, Gujarat model," he said.
The BJP has won every Assembly election in the state since 1995. 
In terms of strength in the Assembly, the BJP has been continually winning 115-127 seats in 182-member House since 1995. It won 121 seats in 1995, 117 seats in 1998, 127 seats in 2002, 117 seats in 207 and 115 seats in 2012 Assembly elections. The Congress, on the other hand, has not crossed the figure of 61 in the state Assembly since 1995. The party won 45 seats in 1995, 53 seats in 1998, 51 seats in 2002, 59 seats in 2007 and 61 seats in 2012.
The term of the current Gujarat Assembly will expire on 22 January 2018 and the Election Commission has declared that voting for electing the new Assembly will be held before December 18 this year.