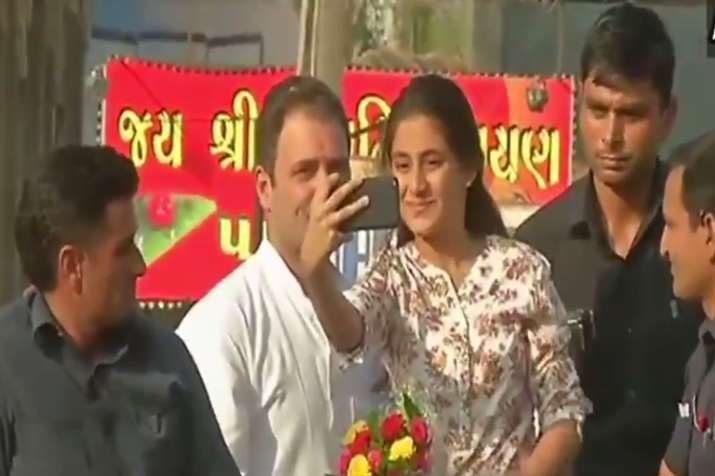 A girl in Gujarat's Bharuch on Wednesday made her way to Rahul Gandhi's van during his roadshow and managed to get a selfie with the Congress vice president. 
A viral video shows the girl climbing up the van, getting close to Rahul and clicking selfie. After this, Rahul and the SPG helped the girl get down the van. 
Watch Video here:
#WATCH: A girl gets onto Congress Vice President Rahul Gandhi's vehicle during his roadshow in #Gujarat's Bharuch, takes a selfie with him pic.twitter.com/blEnRXS2FK

— ANI (@ANI) November 1, 2017
During his roadshow today, the Gandhi scion attacked Prime Minister Narendra Modi and Finance Minister Arun Jaitley, alleging that they have failed to improve the nation's economy.
 
"Jaitley ji said ease of doing business has seen improvement in India. Is he living in real or a dream world?" said Rahul. 
"India needs a certificate from the country, and the people are saying Narendra Modi, Arun Jaitley have failed," he added. 
Earlier today, accused PM Modi of favouring industrialists and not waiving farmers' loans. Gandhi also alleged that GST and demonetisation have ruined businesses in India. 
He also dismissed a World Bank report on India's improved 'ease of doing business' status and asked Finance Minister Arun Jaitley to meet small traders to understand the reality. 
On the first day of his three-day campaign tour of south Gujarat, Gandhi also hit out at Prime Minister Narendra Modi on the issue of black money and said demonetisation had destroyed the country's economy. 
Stepping up his attack on the Centre and the BJP-led state government, Gandhi covered a wide range of topics in his public rally, including GST, caste politics and corporate favouritism.