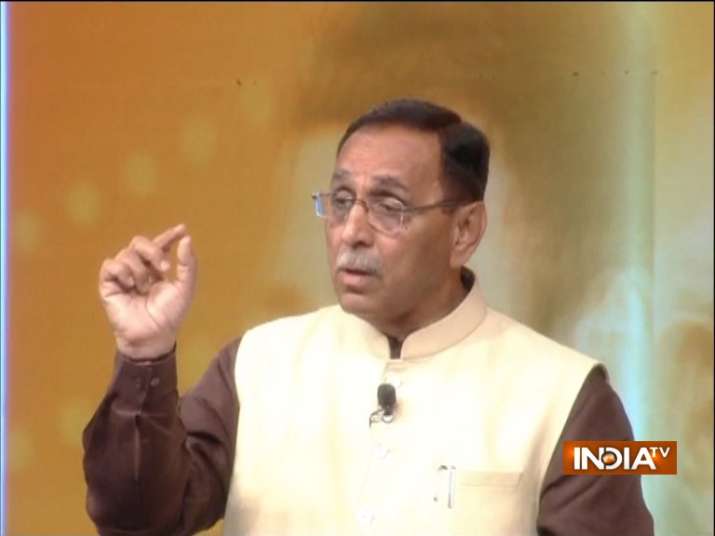 Gujarat chief minister Vijay Rupani today rejected Congress party's charges that the Election Commission was delaying announcement of poll dates because of "pressure from BJP".
"We never interfered in the work of Election Commission. Announcing poll dates is the Commission's prerogative, and the EC will do it at the appropriate time", Rupani told India TV editor-in-chief Rajat Sharma in "Chunav Manch", a daylong conclave on Gujarat elections in Ahmedabad today. 
"Let me tell you, in 2012, the Election Commission enforced Code of Conduct on October 4, polling was held in Gujarat on December 13 and 17. This year, the Congress itself was expressing apprehension that Gujarat poll dates may be advanced in view of BJP's resounding victory in Uttar Pradesh. Now they have changed their stand. They want poll dates to be announced soon", Rupani said. 
The chief minister said: "Elections in Gujarat will be held on time. Till the time  the dates are announced, my government will surely do work in the interest of the people." 
The state government had recently announced withdrawal of 136 cases filed against the agitating Patidar community, declared Diwali bonus for Class 4 employees, and jobs for Valmikis in municipal bodies. It also announced implementation of GDCR (General Development Control Regulations) for the construction industry from Oct 12, since the industry is reeling because of RERA (Real Estate Regulatory Authority) regulations. 
"The GDCR was not announced suddenly. The GDCR was finalized and made public two and a half months ago", the Chief Minister pointed out. 
Rupani exuded confidence saying that the BJP would again retain power in Gujarat in the assembly polls. "Gujaratis are practical people, they believe in development, they know that with Narendrabhai at the Centre, a BJP government in the state will help them."
The chief minister hit out at Congress leader Rahul Gandhi saying, "his comments smack of 'bachpanapan' (childishness). For the Congress, 'vikas' (development) is a joke, for us 'vikas' is 'mizaaj' (state of mind)". 
He however clarified that he never said "vikaas paglaa gaya hai". "What I actually said was the Congress leaders used to continuously crib that there was no 'vikaas', and I said, these leaders seem to have become "paagal" (mad) about "vikaas"."
Rupani said, "Sonia Gandhi's 'putramoh' (love for her son) cause the decline of Congress, and Ahmed Patel's 'moh' (yearning) for Rajya Sabha seat has caused the demise of Gujarat Congress."
The chief minister rejected Rahul Gandhi's charges that the Narmada river project was meant to benefit a handful of industrialists. 
"Let me make it clear. We are giving out 80per cent of Narmada water for drinking purpose, 18 per cent for irrigation purpose, and only two per cent water for industries."
The chief minister claimed that during Congress rule in Gujarat, the dropout rate of students in schools was 37 per cent, while it was only one per cent now. 
He also claimed that in 1995, Gujarat's per capita income was Rs 13,000, and now it was Rs 1,40,000. "This year, we gave government jobs to 72,000 people in Gujarat, while the Congress had put a ban on govt jobs for 20 years."
When Rajat Sharma pointed out that 16 top industries in Gujarat were set up during Congress rule, Rupani quipped: "Yes, Reliance Industries was set up during Congress rule, today they are linking Ambani of Reliance and Adani with Narendrabhai. Congress is misleading the people. Modiji is working for the betterment of the poor."