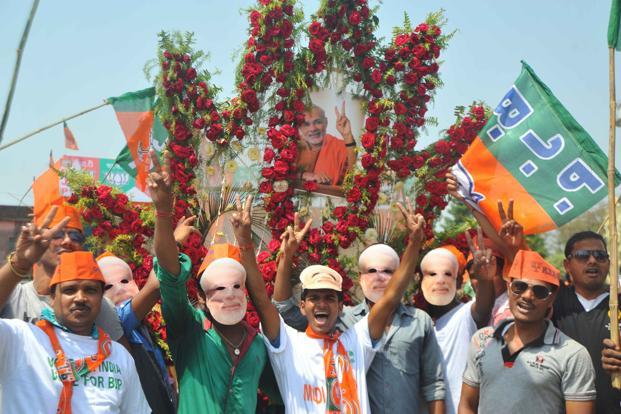 Celebrations broke out at the Gujarat BJP headquarters 'Kamalam' in Gandhinagar today as soon as the trends suggested that the ruling party was poised for a victory in Prime Minister Narendra Modi's home state.
Party supporters gathered in large numbers at the office and distributed sweets among themselves.
On the other hand, only a few people could be seen at the Congress headquarters in Ahmedabad.
The BJP supporters, waiving the saffron flag and donning the party cap, greeted each other over the impending victory of the party which is set to retain power for the sixth term in a row.
"The Congress carried out negative politics and talked about caste. They said development has gone crazy, when in fact people in the opposition party had gone crazy. The people in Gujarat supported development over caste," said a supporter of the ruling party.
He was referring to the Congress' campaign theme "Vikas Gando Thayo Che" (development has gone crazy), ahead of the polls. The BJP had launched a counter drive, titled "I am development, I am Gujarat".
The BJP today appeared to be on its way to retain power in Gujarat for the record sixth time, with trends from 182 Assembly seats giving it a lead in 104 seats while the Congress was following with 72.
The Election Commission figures showed that the NCP was leading in one seat and the Bhartiya Tribal Party of Chottu Vasava in two seats. Three independents were also leading.