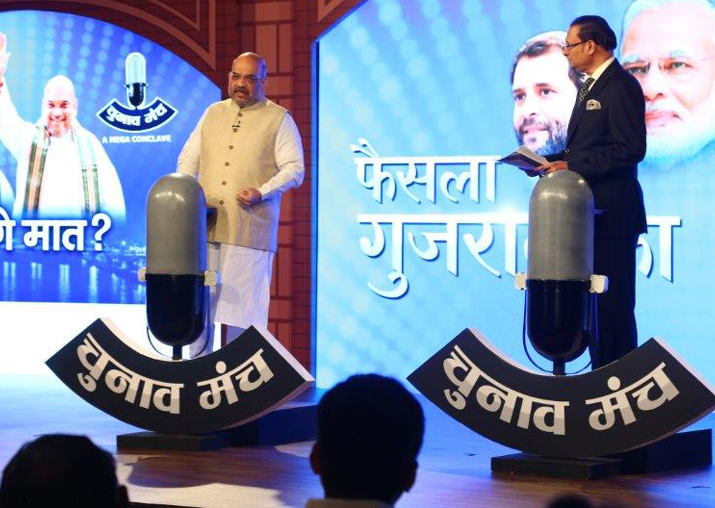 Ahead of the upcoming Assembly polls in the politically crucial state of Gujarat, top-line political leaders including BJP President Amit Shah, Gujarat CM Vijay Rupani, former chief ministers Shankersinh Vaghela today outlined their party's agenda at India TV's flagship election mega conclave Chunav Manch in Ahmedabad on Tuesday. FULL COVERAGE ON GUJARAT CHUNAV MANCH
At the mega conclave, India's foremost news personality, India TV Chairman & Editor-in-Chief Rajat Sharma was seen grilling the representatives of major political parties on their respective agendas for the upcoming Assembly elections.
The Gujarat Assembly elections will be held in two phases on December 9 and December 14, respectively. Phase 1 of polling will see 89 Assembly constituencies vote, while 93 will vote in phase 2. Counting of votes will take place on December 18.
HERE ARE HIGHLIGHTS:
Amit Shah on Chunav Manch 
9:39 pm: "Narendra Modi is the Prime Minister and he has full right to tell people the account of his work. Rahul and Sonia Gandhi should come forward and tell what they did in 10 years." 
9:39 pm: The BJP government worked for all sections of the society.
9:38 pm: Amit Shah says "Congress indulging in caste politics."
9:36 pm: Amit Shah accuses Congress of spreading lies. The BJP president asks people to visit the websites of Gujarat government to know the truth. 
9:34 pm: We agree that private institutions have come up in the state but still we have 75% reservation for the poor in those institutions:
9:33 pm: Amit Shah slams Congress for delaying the Narmada project. "Narendra Modi had to sit on strike against the government." 
9:30 pm: This shows the mentality of the Congress leaders. We have also been in Opposition but have never insulted anyone like that: Shah 
9:29 pm: The youth wing of the country's grand old party mocking Narendra Modi's past on social media is very unfortunate. "Is it necessary for someone to be born in the Gandhi family to become Prime Minister? We are very proud the a man with poor background is the Prime Minister." 
9:20 pm: Rahul Gandhi claims that Gujarat has not developed after the BJP has come to power. I want to ask him who has completed the Narmada project, the bullet trains and many other agendas: Amit Shah
9:18 pm: Amit Shah slams Congerss and vice-president Rahul Gandhi for opposing the GST. "The Congress party should tell the people what they are opposing. At the GST meetings, their representatives take part." 
# I am proud to say that our PM has worked really hard to help people overcome those hurdles. I assure that GST will prove to be the best economic reform in the months to come
9:17 pm: The GST has helped to check the inspector raj, says Amit Shah 
9:17 pm: Amit Shah strongly defends government over GST. "The Narendra Modi government is very sensitive and responsible, it is committed to ease the business doing norms." 
9:15 pm: The BJP president dares Rahul Gandhi to release the list of industrialists whose loans were waived off.
9:14 pm: The BJP government headed by Narendra Modi formed has not waived off loan of anyone (industrialist): Amit Shah 
# Narmada water has reached all sections of the society, Congress should stop making otherwise claims without proofs: Amit Shah
9:12 pm: BJP is the only political party in country to provide 33 per cent organisational reservation to women and BJP is committed for women empowerment: Amit Shah 
9:10 pm: Congress' leaders have no right to brand anyone as anti-Dalit. Dalits are safe in Gujarat. 
9:09 pm: Patidar agitation for reservation was backed by the Congress. People of Gujarat are aware of everything: Shah 
9:07 pm: BJP can't make false or hollow promises, says Amit Shah 
9:06 pm: Amit Shah asks Congress to put the draft of proposal to provide reservation exceeding 50 per cent in the public domain. "Constitutional experts should debate on the matter."
9:04 pm: In Lok Sabha and Assembly elections, people of Gujarat have always opted to vote in favour of the BJP by more than two-third in last 22 years: Shah 
9:03 pm: Amit Shah takes a jib at Rahul Gandhi's visits to temples. "I don't know whether his visits will yield results or not, but it is god that he is visiting temple." 
9 pm: BJP president Amit Shah says he is confident of bagging more than 150 seats.
Sanjay Nirupam and Sambit Patra on India TV Chunav Manch
​
​07:52 pm: I can relate RSS to terrorism because the country has witnessed occurrences wherein the people of RSS have been found involved, like the Malegaon case: Sanjay Nirupam
07:52 pm: We condemn all sorts of terrorism, be it ISIS or RSS: Sanjay Nirupam
07:49 pm: Sanjay Nirupam calims no Congress leaders has every used the words 'Hindu terrorism' 
07:44 pm: Sushil Kumar Shinde apologized for the statement only after Hindus themselves raised a voice against it: Sambit Patra
07:42 pm: At the time of Rahul Gandhi's elevation in 2013, Sushil Kumar Shinde had referred to Hindus as terrorists and Sonia Gandhi ji did not even say a word to oppose the statement: Sambit Patra
​07:40  pm: We are not the kind of Hindus who would hate or protest other religions, we respect everyone: Sambit Patra
​07:39 pm: Congress leaders used to fear saying 'I am also Hindu' three years ago. This is only possible because of the BJP: Sambit Patra
07:38 pm: It is not that the Congress leaders do not have faith in Hinduism or are against Hindus, I am also a Hindu: Nirupam
07:38 pm: Taking notice of Rahul Gandhi's moves is an indicator that you fear him today: Nirupam
07:37 pm: If worshipping God is so dear to him, then he should stand with the decision of constructing Ram Mandir in Ayodhya: Sambit Patra
07:36 pm: BJP raises Ayodhya issues only at the time of elections: Sanjay Nirupam 
07:35 pm: BJP is not at fault if Rahul Gandhi is not able to launch himself: Sambit Patra
07:33 pm: Rahul Gandhi had called Lord Ram a 'myth' in court, will he build Ram Temple in Ayodhya: Sambit Patra 
07:31 pm: PM Modi says is poor, and wears suits worth thousands, changes jackets five times a day and travels in private plane. May God make everyone poor like him: Sanjay Nirupam
​07:29 pm: The youth of Gujarat is angry over BJP because of job crisis and unemployment: Sanjay Nirupam
07:28 pm: Why is BJP objecting on Rahul Gandhi's recent temple visits in Gujarat: Sanjay Nirupam  
Randeep Singh Surjewala and Kirit Solanki at India TV's Chunav Manch conclave
7:23 pm: Congress will provide reservation to the Patidar community the day we come to power in Gujarat: Surjewala 
7:19 pm: Is helping underprivileged people a crime? asks Randeep Singh Surjewala
7:17 pm: BJP is ignoring the demands of Patidars, the party is not doing anything to strengthen the Patidar community. If Congress is making efforts to help Patidars, we are being accused of shaking hands with them: Randeep Singh Surjewala
7:13 pm: Randeep Singh Surjewala asks government to pay heed to poor farmers who are committing suicide and work for uplifting them economically.
7:11 pm: Randeep Singh Surjewala targets government over its tall claims of bring Narmada river water to villages. "Places that supposed to get the Narmada river water are still not getting its part of water."
7:08 pm: Randeep Singh Surjewala asks BJP to bring diesel, petrol, real estate under the ambit of GST. "The Congress will extend its support to the government unconditionally." 
7:09 pm: Randeep Singh Surjewala Congress asks BJP to bring diesel, petrol, electricity, real estate under GST. "The Congress will extend its support to the government unconditionally." 
7:17 pm: Our govt is open to make GST people-friendly and we are helping those who have suffered due to its implementation: Solanki 
7:06 pm: GST means 'one nation one tax'. The Congress has repeatedly favoured for one slab under the new tax regime: Randeep Singh Surjewala
7:05 pm: GST is the biggest tax reform the nation has adopted since Independence. They (Congress) mocking development is wrong, says Kirit Solanki
7:04 pm: Gabbar Singh Tax hurting traders in Surat, says Surjewala
7:03 pm: There is no anti-incumbency factor in Gujarat. We have been serving the people continuously from last 22 years, says BJP MP (Ahmedabad West) Kirit Solanki
7 pm: An individual can never help you win the elections, 6.5 crore Gujarati will decide who will win. People demanding account of 22-year of misrule. GST (Gabbar Singh Tax) pushing back the state, traders are suffering due to GST: Congress media in charge Randeep Singh Surjewala
Jitu Vaghani on India TV Chunav Manch
​
05:41 pm: I invite everyone to come to the BJP and work as per the rules we follow for the country
05:41 pm: BJP believes in 'nation first' and we work as per the same agenda. We will continue to fight for the country: Jitu Vaghani
05:40 pm: Congress will have to pay a price for the indecent cartoons against PM Modi, it was very wrong of them to target PM Modi by referring him as 'Chai Waala'
​05:39 pm: In Municipal polls, BJP gave tickets to 108 Muskim candidates
05:38 pm: Goons used to be more powerful before the BJP had come to power, but we have taken a control on all such activities in our rule: Jitu Vaghani
​05:37 pm: Congress called people of Gujarat 'donkeys', then why Rahul Gandhi is asking uis for votes: Jitu Vaghani
​05:36 pm: It is a strategy of the Congress to degrade BJP by saying that we are biased towards a particular religion
​05:35 pm: We work with the agenda of 'Sabka Sath Sabka Vikas', we have given tickets to Muslim candidates also: Jitu Vaghani
​05:33 pm: Congress kept on lingering the Sarovar dam project for seven years: Jitu Vaghani
​05:32 pm: Rahul Gandhi should first learn how to enter the temples and offer prayers, this is not acceptable in Gujarat: Jitu Baghani
​05:31 pm: Congress will see a downfall wherever Rahul Gandhi will go: Jitu Vaghani
​05:30 pm: People in Gujarat have rejected Congress: Jitu Vaghani
​05:29 pm: Narendra Modi is the 'son of Gujarat' he is our pride: Jitu Vaghani
Ravi Shankar Prasad on India TV Chunav Manch
4:25 pm: The 50 per cent limit in reservation is very clear and the court will have to strictly look into this in order to relax this limitation. The Congress party is making this an issue.
4:23 pm: Congress party and its top leaders are misleading Patidars. Their deal is completely based upon reservation: Ravi Shankar Prasad 
4:19 pm: BJP's win will be historical and decisive, says Ravi Shankar Prasad 
4:16 pm: Ravi Shankar Prasad slams Congress for seeking proof of surgical strikes from Army. "Indian Army enters PoK and successfully conducts surgical strikes. Rahul Gandhi believes in doing nothing but demanding proofs. Congress party is insulting the Indian Army."
4:13 pm: Narendra Modi is our minister and he stands respected in the world today, we are proud of this fact, says Prasad
4:11 pm: Ravi Shankar Prasad targets Congress over dynastic politics. "Rahul Gandhi is the most deserving candidate to be anointed to the Congress' president post, this is just because he is born in that family." 
4:07 pm: Ravi Shankar Prasad targets Congress party for not honouring Sardar Patel. "Congress party insulted Sardar Patel. There were many forces in Congress which stopped the successor governments from awarding Bharat Ratna to him. Sardar Patel died in 1950, but Bharat Ratna was conferred upon him in 1991."
4:06 pm: Kapil Sibal giving wrong advise to Congress (over Patidar reservation). There would not have been any 2G and 3G scams had Kapil Sibal given appropriate advise to Congress: Ravi Shankar Prasad
4:05 pm: Rahul Gandhi misleading Patidars over reservation, says Ravi Shankar Prasad
4:02 pm: Prasad asks Ashok Gehlot and Congress leaders to do homework before speaking anything 
4:01 pm: Ravi Shankar Prasad slams Rahul Gandhi for his remark of linking LeT with saffron terrorism. Rahul Gandhi had told US Ambassador that saffron terrorism is a threat to India. For Rahul, saffrom terrorism is bigger issue than LeT
​4 pm: Ravi Shankar Prasad attacks Rahul Gandhi over his 'hugplomacy failure' remark 
Hardik Patel on India TV Chunav Manch
​
​​2:10 pm: How many schools, colleges and hospitals have been made by the BJP governments in last 27 years - Hardik
​2:05 pm- We are fighting for our rights. We don't want any cut into the share of SCs, STs and OBCs - Hardik
​2:06 pm: Those sitting in power killed 14 youth - Hardik
​2:04 pm : Anadiben ordered firing on Patidar youth. Why didn't she come to the venue and said that we will consider your demands - Hardik
2;02 pm: Even Lord Krishna in Gita said that power should keep changing hands - Hardik
​2:01 pm: I did not ask any party for ticket - Hardik
​2:00 pm: Which party I will join is something that I will reveal at the right time - Hardik
​1:58 pm : We are asking for reservations because the people of my community are not getting right price for what they are producing in the fields: Hardik
​1:57 pm: We don't believe in arm twisting: Hardik
​1:56 pm: Who ordered firing on Patidar youth, asks Hardik
​1:54 pm: We would have agreed with BJP had they promised reservation after 2 years, but they refused for reservation and this is why we fight - Hardik
​1:53 pm: I only aim to put forward the demands of Patidar community, I do not intend to favor or speak against any political party - Hardik
​1:52 pm: The ceiling has been set by the Supreme Court but the apex court keeps changing its decision. 
​1:51 pm: Nowhere in the constitution it is written that reservation can't be given beyond 50 per cent: Hardik
​1:50 pm: BJP committed atrocities on Patidar community. I am fighting for its ouster from power- Hardik
​1:49 pm: Nobody asks why are we seeking reservations: Hardik
​1:48 pm: Development is not only about making river fronts: Hardik
​1:47 pm: My priority is ensuring reservation for Patidar community - Hardik
Vijay Rupani on India TV Chunav Manch
​
1:33 pm: We may have over-confidence but not arrogance: Rupani.
1:32 pm: Indecent cartoons are an insult to the Prime Minister of the country, it is also an insult to the poor people who work as 'chaiwaalas'. Congress will have to pay a price for it.
1:31 pm: We work for the people of Gujarat and not just for a particular section of the society.
1:30 pm: The country is talking about the Gujarat elections today and we are looking forward to working for the welfare of the state.
1:29 pm: We have made policies to help people by providing them with the best medical facilities.
1:28 pm: Anandiben Patel is concerned for the Gujarat elections.
1:25 pm: People are aware of the 'anti-Patidar' attitude of the Congress party and this has already been quoted by PM Modi.
1:20 pm: BJP has made a policy-driven state, decisions here are made based on policies, not individuals.
1:19 pm: We had never promised electricity supply for 14 hours to the farmers. We had promised for 8 hours but we are providing electricity supply for 10 hours.
1:18 pm: PM Narendra Modi has done what others couldn't in past 60 years.
1:16 pm: Gujarat stands ahead in terms of employment opportunities. Not just the state, but the country has benefited from the employment opportunities generated by PM Modi
1:14 pm: Congress always points out the unemployment rate in Gujarat which is not true, all this is being done for votes.
1:13 pm: Congress has always politicised issues that could have been eased out by working for the people.
1:12 pm: Rahul Gandhi should understand that visiting temples will not give him any votes, he needs to work for the people to gain votes.
1:09 pm: Patidar fight is no more for a community, it has become a private affair.
1:08 pm: Congress cannot be power as it has not done anything in the past years.
1:07 pm: We have lived up to the demands and expectations of the people of Gujarat.
1:06 pm: The Patidar community is well aware that Hardik Patel supports Congress party.
1:05 pm: Hardik Patel has duped the Patidar community and the Patidars have come to know about it now.
1:04 pm: Patidars and BJP are two sides of the same coin, they will vote for us.
12:55 pm: Gujarat CM Vijay Rupani takes stage with India TV's Rajat Sharma.
Nitin Patel and Arjun Modhwadia on India TV Chunav Manch
​
12:45 pm: It is okay as long as an ignorant kid remains peacefully inside the house, but when he starts talking about burning it down and asks people to run away, he needs to be stopped, Nitin Patel says in response to a question on his outburst against Hardik Patel at a press conference a few days ago.
12:40 pm: Hardik Patel a 22-year-old ignorant kid, I have a right to correct him if he talks about burning down the house, says Nitin Patel 
12:35 pm: Gujarat govt has provided Tata Nano a subsidy of Rs 550 crore only, not Rs 30,000 crore as claimed by Congress and Rahul Gandhi, says Nitin Patel
12:33 pm: Lakhs of people unemployed in Gujarat alone due to GST and notes ban, alleges Modhwadia. Over 60,000 small scale industries had to wind up in Gujarat under BJP's rule
12:32 PM: Hardik, Jignesh and others are all a manifestation of the people's anger in Gujarat, says Modhwadia
12:31 pm: People of Gujarat have made leaders out of youngsters like Hardik Patel, says Congress' Modhwadia 
12:30 pm: I openly say that Jay Shah indulged in corruption, challenge BJP to file defamation suit against me, says Modhwadia
​12:28 pm: BJP's Nitin Patel counters allegations on Jay Shah, says Congress has been unable to provide any proof against him in court
​12:26 pm: People have rejected Congress' corruption laden governments .BJP has provided clean governance, Nitin Patel  
​12:24 pm: If Congress actually did the amount of work that Modhawadia claims, why have the people of Gujarat kept them out of power: Nitin Patel
​12:20 pm: Congress carried out major infrastructure development works in Gujarat, BJP only undertook yatras
12:15 pm: Who commands the Patel community vote? Nitin Patel and Modhwadia take stage
12:10 pm: Nitin Patel and Arjun Modwadia to take stage in a short while from now
Shankersinh Vaghela on India TV Chunav Manch:
12:04 pm: I stood with Congress when there was no profit, have never demanded any ticket.
12:01 pm: Vaghela slams 'indecent' cartoons on political leaders, says there is need for accountability in social media.
11:58 am: There should be an accountability on social media. People cannot target and attack each other through social media.
11:57 am: Congress is acting in a way as if it was unaware of the election dates, they are not yet prepared and are changing their decisions.
11:56 am: I have never taken money from anyone in my life, there is no such allegation on me in my political career.
11:55 am: Distributing tickets at the eleventh hour shows Congress was unprepared for the Assembly elections, says Vaghela
11:54 am: If goons and sycophants are getting tickets to contest elections, it is the fault of the high command: Vaghela
11:53 am: Rahul Gandhi a thorough gentleman, his elevation as Congress president to benefit party, says Vaghela
11:50 am: Did AAP contest Delhi elections to cut BJP and Congress votes: Vaghela on question if his political venture is aimed at cutting votes.
11:46 am: I will never advise anything to Rahul Gandhi, he is self sufficient and can understand things.
11:45 am: PM Modi will also work for the development of Gujarat but the industrial development needs to be supported.
11:45 am: Dhirubhai belonged to Gujarat and so he supported and worked for industrial development.
11:44 am: I do not speak ill against any political personality, be it PM Modi, Rahul Gandhi or Sonia Gandhi, it is always sugar coated.
11:43 am: Congress will make BJP win, they have taken the onus.
11:42 am: If Rahul Gandhi is visiting temples and mosques, it cannot be protested in any way; it is just being politicised.
11:40 pm: Development is in our blood, says Vaghela at India TV's Chunav Manch.
11:40 am: If Patidar community is happy with Congress, they can support the Congress party, but people should not be duped.
11:32 am: Patidar is a strong community and it will be difficult to fight them.
11:30 am: Jan Vikalp Morcha was aimed to watch candidates who were unhappy within the party
11:15 am: Gujarat's Kshatriya strongman Shankersinh Vaghela takes the stage with India TV Editor-In-Chief Rajat Sharma.
09:16 am: While the country braces itself for much awaited Gujarat Assembly Elections 2017, the epicenter of all the buzz remains Ahmedabad.
09:12 am: The Ahmedabad edition of Chunav Manch shall host an impressive set of dignitaries along with nation's and state's top political stakeholders.
09:01 am: In Gujarat, there will be direct contest between the Bharatiya Janata Party (BJP) and the Congress with very little space left for other players like Aam Aadmi Party (AAP).
08:56 am: The upcoming elections in PM Narendra Modi's home state is also being seen as run-up to the 2019 Lok Sabha elections.
08:42 am: India TV team led by its Chairman & Editor-in-Chief Rajat Sharma shall himself lead the charge to set the agenda of the long eventful day.
08:33 am: He along with his team of leading India TV anchors shall grill the political big-wheelers who shall be present to attend the event.
08:30 am: The programme will be telecast live on India TV throughout the day on Tuesday.