Follow us on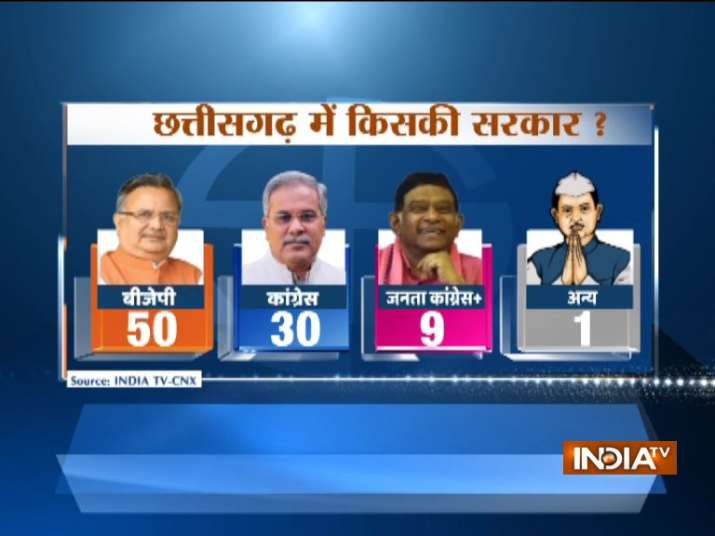 Chhattisgarh Assembly elections are less than a month away and both the ruling Bharatiya Janata Party (BJP) and the Congress are trying their best to woo the voters. The state will go to polls in two phases on November 12 and 20, while the counting of votes will take place on December 11.
While both the BJP and the Congress are busy chalking out plans to lure the voters in this Naxal-affected state, the alliance between Mayawati's Bahujan Samaj Party (BSP) and veteran leader Ajit Jogi's Chhattisgarh Janata Congress has added to their challenges. 
An opinion poll conducted by IndiaTV-CNX shows that despite being in power for 15 years, CM Raman Singh is likely to get a record fourth term in Chhattisgarh. The opinion poll shows that the ruling party will retain power by winning 50 seats, while the Congress may come first on 30 seats. Ajit Jogi's party may get nine seats.
IndiaTV-CNX Chhattisgarh Opinion Poll: Highlights
06:36 pm: Out of the 90 seats in Chhattisgarh, the BJP is likely to win 50 seats, Congress 30, Ajit Jogi's Janata Congress 9 seats.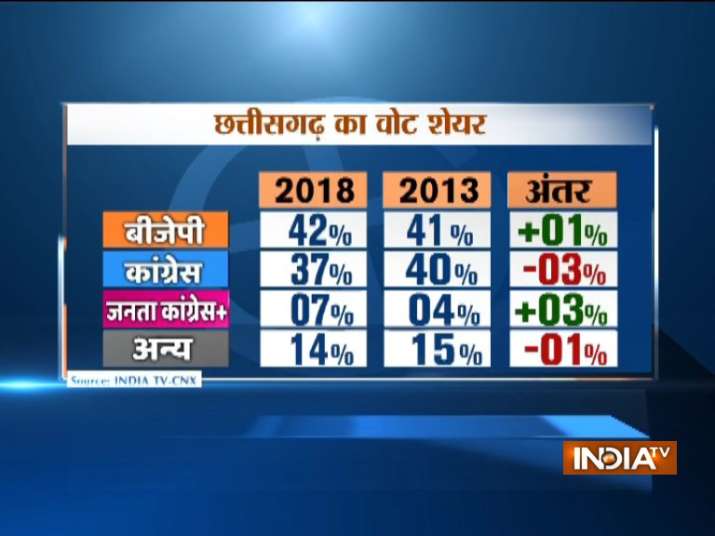 06:35 pm: In Bilaspur region, Ajit Jogi is likely to win seven seats which will directly impact the Congress. The BJP likely to win 12 seats 
06:31 pm: In the pre-poll survey, a huge 40.71 per cent respondents said they want Raman Singh to stay as Chief Minister, while 19.2 per cent favoured Congress leader Bhupesh Baghel as CM.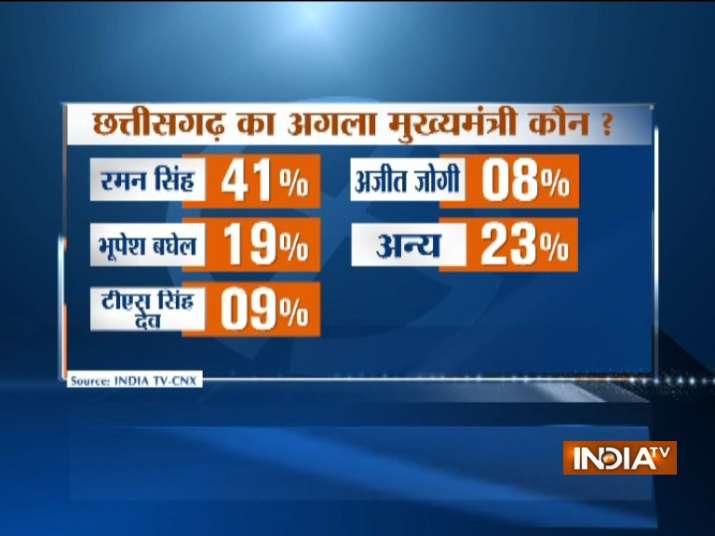 06:22 pm: In the naxal-affected Bastar region, the BJP  appears to be making some ground as it is likely to win 10 while the Congress is likely to win just 2 seats
06:20 pm: Asked what will be the biggest issue in the coming polls, 35.9 per cent people said Development, 20.71 per cent said Unemployment, 15.71 per cent said Petrol-Diesel price hike, 12.58 per cent said farmers' problems, 10 per cent said Corruption, and only 3.55 per cent respondents said Rafale Deal.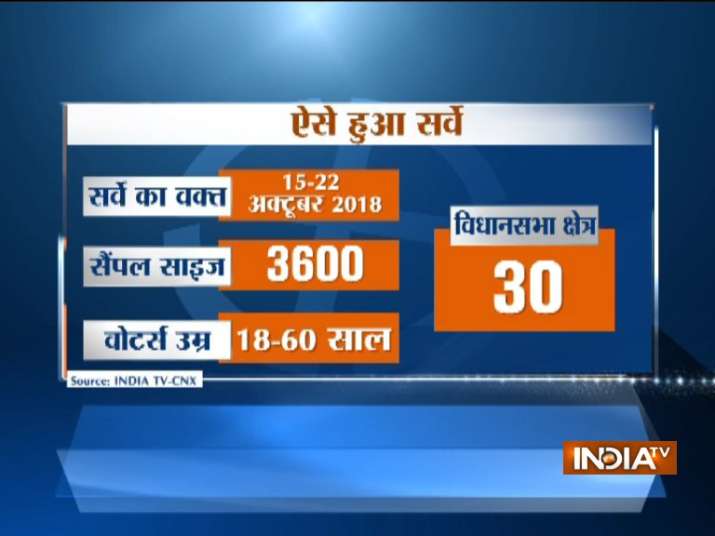 06:13 pm: In Durg, BJP seems to be suffering a loss of three seats as it is likely to win 8 seats. The Congress 12. Ajit Jogi's party is unlikely to win any seats in the region.
06:11 pm: India TV-CNX​ Opinion poll predicts that the BJP will win 14 seats, while the Congress 5 in Raipur region.
WATCH: IndiaTV-CNX Opinion Poll shows BJP will rule all regions
How many Assembly seats are there in Chhattisgarh?
The Chhattisgarh Vidha Sabha (Assembly) has 91 seats. While 90 members are elected directly, one member is nominated from the Anglo-Indian community.
Are opinion polls accurate?
Opinion polls are basically conducted to give you a sence of public mood in a particular region. However, it does not always represent a true picture due to various factors such as sampling size and authenticity of response. In the past, election opinion polls have turned out be exactly opposite of the actual results. But for a majority of times, opinion polls have emerged close to people's verdict. 
How do you conduct an opinion poll?
Conducting an opinion poll involves meticulous planning and various steps. Firstly, a public opinion poll is created mentioning several questions. Then, population and sample size is selected. The last and the most important step in to conduct the public opinion poll on ground through field workers. 
WATCH: BJP likely to win 50 seats in Chhattisgarh, predicts IndiaTV-CNX Opinion Poll