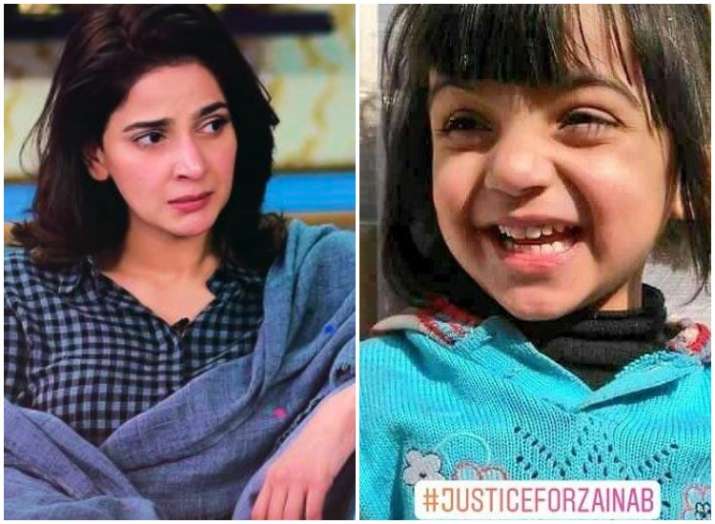 "My self
I am a girl
My name is Zainab
My father's name is Amin
I am 7 years old."
Zainab Ansari, an innocent 7-year-old Pakistani girl wrote these words without knowing that these would be her last words as after that she was kidnapped, raped, and then murdered. Her body was recovered from a trash heap five days after she went missing.
Over and over again, these kinds of incidents are shaking the whole world. Not only Pakistan but the whole world is trying to wrap their heads around the tragedy but the crime rate against the minors is a point to the serious discussion.
But, what had recently come to the notice of netizens is when Saba Qamar, a Pakistani actress who appeared in Bollywood film Hindi Medium during a morning talk show in Pakistan was seen holding her tears while talking about Zainab (the 7-year-old girl who got raped and murdered). While lashing out at the law enforcement agencies, the actor kept wondering who to demand justice from. 
Saba said: "Who do I demand justice from? I am crying like she was my daughter or my sister. She is not even my blood relation, but I am crying. Her family must be dead inside."
The 33-year-old performer also said: "I am a fighter. I appeal to all the women in the world. Look around, speak up. Don't allow women to be humiliated and treated this way, take matters into your own hands. Train your girls, if someone is touching you the wrong way, slap him. We cannot allow this to continue and become a norm."
Watch the video here: 
The outraged citizen in Pakistan is protesting in demand for justice. A number of Pakistani celebrities have condemned the tragic rape and murder of the 7-year-old. They have posted photographs and raised voice for Zainab on the social networking platforms.
I can't believe a human can do such act. What kind of society we r becoming? Who ever did this sick act should be brought to justice as soon as possible #JusticeforZainab pic.twitter.com/FTydVYqxNT

— Azhar Ali (@AzharAli_) January 10, 2018
Never been so angry and disgusted in my life. Her parents had gone for Umrah when this happened. Imagined their state of mind. Justice has to be served! #Justice4Zainab pic.twitter.com/oI8dI1pDln

— Ali Zafar (@AliZafarsays) January 10, 2018
How can someone be so cruel? This atrocious attack should not be ignored. I strongly request parents to keep an eye on their children in order to protect them from the evil eyes. Everyone please pray for the little #Zainab

— Atif Aslam (@itsaadee) January 11, 2018
Insaniyat khatam hoti ja rahi hai.. a sad day indeed! #JusticeForZainab the day has come to an end but I wish & pray that the fight for justice doesn't end! We will not forget! Hang the perpetrators!!!

— MAWRA HOCANE (@MawraHocane) January 10, 2018
I can't believe a human can do such act. What kind of society we r becoming? Who ever did this sick act should be brought to justice as soon as possible #JusticeforZainab pic.twitter.com/FTydVYqxNT

— Azhar Ali (@AzharAli_) January 10, 2018
​