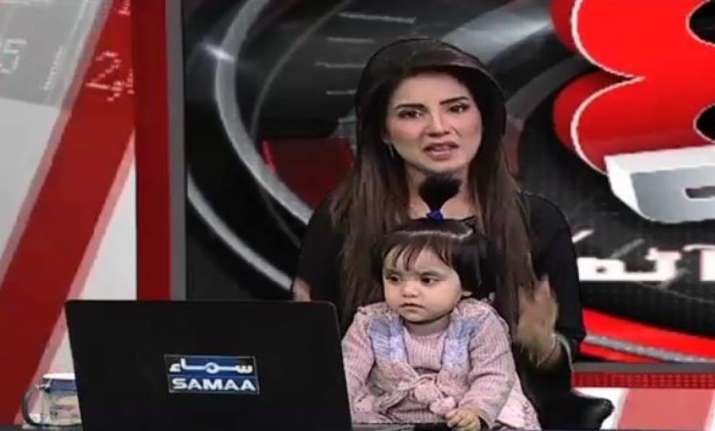 A week ago, the news of the brutal rape and murder of eight-year-old Zainab in Kasur came in as a big shock for the citizens of Pakistan. Amidst the riots and the protests on the streets and social media, a Pakistani anchor has succeeded in spurring concern with her potent move to have her young daughter on her lap during a live telecast.
Kiran Naz, a Samaa TV presenter has done something on her show that was nearly unimaginable by hosting a news bulletin with her daughter and delivering a statement on the events following the alleged abduction, rape and killing of Zainab Ansari.
She stressed on how she felt as a mother in the aftermath of the brutal rape and murder of a minor girl in eastern Pakistan's Kasur town.
Naz, reportedly one of the most popular female anchors in Pakistan,, with her child on her lap, begun the telecast saying, "Today I'm not your host Kiran Naz. I'm a mother and that is why I'm sitting here with my daughter."
The 1.50-minute-long monologue by Naz sees her condemn the rapes and murders that plague the country. "It is true when they say that the smallest coffins are the heaviest and entire Pakistan is burdened by the weight of her coffin."
Not often that you see a TV news anchor bring her own child to her news cast - @SAMAATV 's Kiran Naz did precisely that to make a point about how she felt as a mother in Pakistan #JusticeForZainab #Justice4Zainab pic.twitter.com/6XMXQJmfzV

— omar r quraishi (@omar_quraishi) January 10, 2018
Slamming the rigmarole of police investigation and political wrangling over such cases, Naz asserted that what should take precedence is ensuring justice for Zainab and punishment to the perpetrators.
"Today, a tiny corpse is lying on the streets of Kasur and entire Pakistan is crushed under its weight... This day marks the funeral of humanity," Naz said in her impassioned monologue.
Zainab Ansari disappeared last week while going to a nearby home for Quranic studies and her body was found in a Kasur waste-yard on Tuesday.
The rape and murder of Ansari, 8, made people in Kasur furious. An angry mob attacked a police station. Two people died in clashes with security forces.