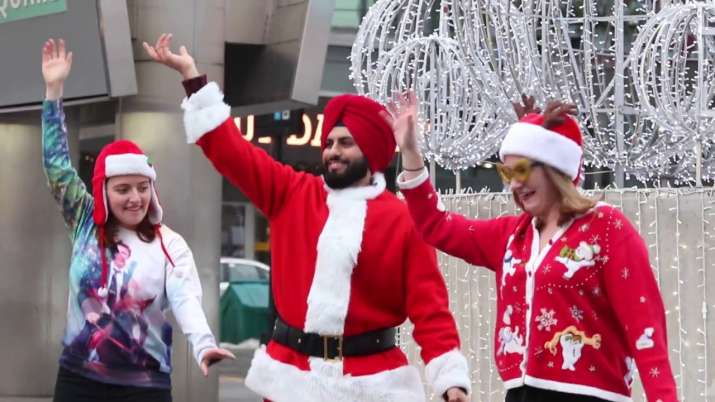 Christmas has finally knocked at our doorsteps and there is a vibe of merriment and good wishes everywhere. But even before Christmas cheer arrived, this Punjabi man dressed as Santa Claus spread smiles on the snow-covered streets of Canada and even showered them with gifts. A video is going viral on social media that shows a Sikh man, dressed in Santa Claus costume, distributing sweets and performing bhangra on the streets of Canada.
The video was first shared on Instagram by Gucci Thingy Guy and now is breaking the internet in every way. The man is dubbed 'Santa Singh' by many users. In the 6-minute video, the man is seen in the Gym doing some weight training after which he picks up the Santa Claus' bag of goodies and hits the streets of Canada. The video shows how the passers-by are so amused seeing him and want to be clicked with him. He obliges them all and also hands them gifts from his bag. He even asks many of them to show him some funny step and dances with them on the streets.
Watch the video here- 
Well, this is definitely the most interesting way to spread Christmas cheer. Christmas is celebrated every year on 25th December as the birth of Jesus Christ. A week before this days, all the markets and homes get decked up with lights and decorations. People bring Christmas tree in their homes and decorate them and exchange gifts. Plum cakes and Christmas carols add further to the celebrations. Christmas is even more special for children, as they wait for Santa Claus to bring their gifts.
Also read:
Merry Christmas 2018: 10 popular Christmas songs of all time
Merry Christmas 2018: 5 unique gift ideas to surprise your kids this year
For latest stories breaking the internet, check out our BUZZ section!