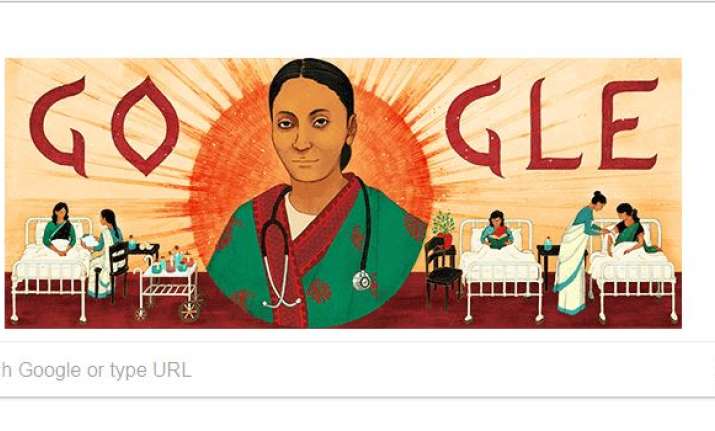 Google Doodle is celebrating the 153rd birth anniversary of Rukhmabai Raut on Tuesday, that is 22 November. It commemorated the birth anniversary by dedicating an illustration to the lady on its homepage of search engine. It shows an Indian woman having a stethoscope around her neck. The backdrop has two hospital beds, a nurse and a patient.
Rukhmabai Raut was one of the first women doctors to practice medicine in British-ruled India. However, Dr. Anandi Gopal Joshi became the first woman physician in India. But she couldn't practice her profession for more than a year so the honour of becoming the 1st practising lady physician on the basis of duration goes to Dr. Rukhmabai Raut. She joined her medical course in 1889 and returned to India in 1894. She practice medicine for more than 50 years in India.
Rukhmabai Raut is the pioneer of Age of Consent Act in 1891. She was married off at an age of 11 to Dadaji Bhikaji, who was aged 19. She continued to stay at her house with her mother, who later got married to Assistant Surgeon Sakharam Arjun Raut. Rukhmabai was supported by her step-father, when she refused to live with Dadaji Bhikaji and his family. This led to the Dadaji Bhikaji vs Rukhmabai case in 1885. Bhikaji demanded for restitution of conjugal rights. But Justice Robert Hill Pinhey considered that Raut was a young woman and was married to an older man in helpless infancy and hence she cannot be forced. Many criticised the court's judgement hailing it as a 'diminishing act to Hindu customs'. The debates around Hindu vs. English law, internal vs. External reforms, the final judgement was drawn. It asked Rukhmabai to live with her husband or face imprisonment for six months instead. She bravely chose prison for six months than choosing to live with her husband.
The matter was finally settled when Queen Victoria dissolved their marriage by overruling the court order. Bhikaji took his claim back over Raut after a payment of two thousand rupees. Rukhmabai later went to England to pursue further studies. She studied at London School of Medicine for 5 years for a degree course in medicine. She wrote many influential letters by the pen name 'A Hindu Lady'. Her case was studied by many and sparked many discussions from a feminist perspective in England. It also encouraged Age of Consent Act 1891, which abolished child marriages thereafter.
In Rajkot, Rukhmabai Raut served as the Chief Medical Officer at a state hospital for 35 years before retiring to Bombay. She took her last breath on September 25, 1955.