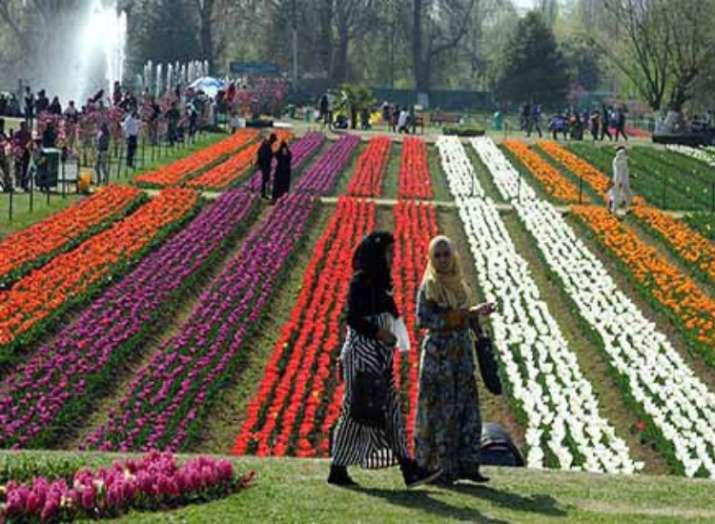 Kashmir is known as the Heaven on Earth. Now we know the reason why! Tourist's most popular place to visit in Kashmir, especially in the blooming season of April, is Indira Gandhi Memorial Tulip Garden in Srinagar. 
Loaded with more than a million Tulips of 70 varieties, Tulip Gardens is a pure treat to eyes. Now it has got one more jewel added to its crown. Asia's largest Tulip Gardens has been included in the London-based World Book of Records (WBR) for witnessing a bloom of 12.25 lakh tulip bulbs this year.
The letter from WBR to floriculture department reads: "We have the pleasure to inform you that the Committee, World Book of Records, London is glad to include the Tulip Garden with more than a million tulips of 70 varieties in world record by WBR, London (UK)."
Talat Parvez, secretary, floriculture department, told Greater Kashmir "This is a big achievement for us especially at a time when we are trying to attract more foreign tourists to the valley. WBR is followed by millions of people across the world and we hope this provides a boost to Kashmir tourism."
The garden which has only 10% bloom left has recorded 1.83 lakh people visited this year. Definitely, a tourist place, isn't it? It was also judged among top five Tulip Garden's of the world by World Tulip Summit Society during its annual summit held in Canada last year and by next month the festival will even promote the garden in their event.
Nice view of largest #TulipGarden.
This year govt provides Wi-Fi facility in the park to boost the tourism in #J&K.
A welcome step by the govt to utilize social media by the public to promote the good things of #Kashmir.@islahmufti @MirAda94 @GRDehlvi @akhterzaidi @sana_1978 pic.twitter.com/X9GRxPcsZp

— Afreenbeg (@Afreenbeg_1998) March 26, 2018
Other than enjoying the vast variety of tulips in different colors, from this year people will also be able to have free access to wifi in the garden grounds. Parvez even revealed that 10 varieties of Hyacinth consisting of 40,000 bulbs have been planted in a separate terrace and the department has added several new fountains to the garden
This spring the footfall at #TulipGarden on the foothills of #Zabarwan range is nearly two lakh in less than a month. #JammuAndKashmir pic.twitter.com/FM7iyGxAKq

— JK Views (@JKviews) April 23, 2018