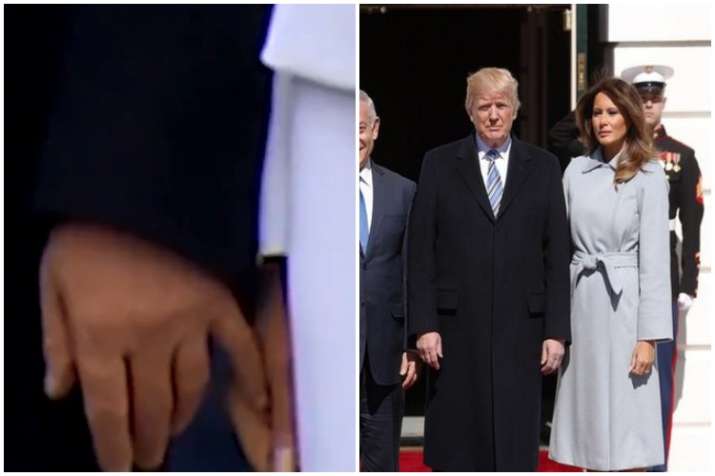 US President Donald Trump is hogging all the headlines for some bizarre reasons. A couple of days ago, he was all over the social media for his brief 'friendly' moment with French President Emmanuel Macaron. Now, he's making to the headlines again, this time for an awkward moment with wife Melania Trump. He tries to hold his wife's hand AGAIN only to fail for the nth time.
In the video with the cameras set up on Donald Trump's hand with zoom-in, the US President tries to hold Melania Trump's hand awkwardly. The US First Lady's reluctance is quite evident in the video. In no time, the cringe-worthy video went viral on the internet.
Melania Trump stood next to her husband Donald Trump to welcome French President Emmanuel Macron on Tuesday. The President of the United States tried to grab his wife's attention by tapping his fingers slowly against her hand. The First Lady remained stone-faced while Donald Trump successfully slid his hand to hold hers.
Twitter couldn't help but troll the US President on the bizarre moment.
'Melania does it again,' wrote one user.               
BOOM!
Melania Trump does it again!
Donald Trump literally tries testing the waters of holding her hand by using one finger first, before Melania pulls away. Donnie then grabs it and doesn't let go. She hates him! pic.twitter.com/KSsYKPGbF7

— Ed Krassenstein (@EdKrassen) April 24, 2018
Donald Trump attempting to hold hands with Melania, only to be rejected over and over, is the cringiest thing I've ever seen 😂😂pic.twitter.com/ZCcQEiLoJp

— Tyler Conway (@jtylerconway) April 24, 2018
"...and loathing..."

"First Lady Melania Trump had another awkward hand-holding moment with husband Donald Trump..."pic.twitter.com/HlzFEOz72X

— Serial Trader 🐾 (@Serial_Trader_) April 25, 2018
This is Melania's "personal boundries" hat. She's wearing it so @realDonaldTrump won't be able to kiss her. Now that's a REAL fashion statement! pic.twitter.com/aykcvPxVMi

— Tolerance 🇺🇸🌊 (@LivinMyTruth) April 24, 2018
April 24, 2018
@realDonaldTrump : Give me you hand, please...@FLOTUS : Nooo, you used it to pick your nose awhile ago...

— Amante B (@amante1112) April 25, 2018
This isn't the first time that Melania Trump has resisted holding Trump's hands. Last year, she was seen shirking his hand away at Tel Aviv Airport.US