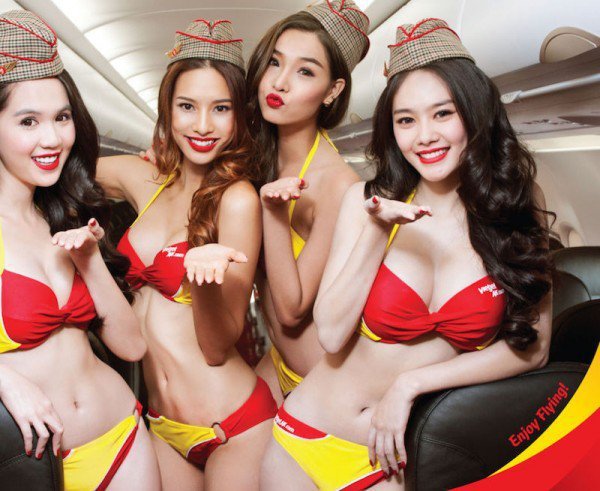 Popularly known as the 'bikini airline', Vietnam-based low-cost airline Vietjet Air will soon commence direct flight service between Ho Chi Minh city and New Delhi four days a week to cater to the fast-growing air traffic between the two cities. 
The airline is known for its saucy stunts featuring scantily clad women. Since launching in 2011, the airline has published an annual calendar that features women in bikinis posing as cabin crew members such as flight attendants, pilots and ground staff. 
Down below are 5 interesting facts about the unusual airline that you must know:
Brain-child of a woman entrepreneur 
The airline was founded by Vietnam's first self-made woman billionaire Nguyen Thi Phuong Thao. She ranked 62nd in the list of Power Women 2016 and also listed in Asia's 50 Power Businesswomen 2016.  Phuong Thao has an-eye popping net-worth of $3.4 billion according to Forbes and ranks as the second richest person in Vietnam.  According to reports, she also has investments in HD Bank and real estate, including beach resorts.
When VietJet sparked controversy
In 2012, the airline found themselves in hot water, when five female bikini-clad flight attendants took part in a mid-flight dance posing as beauty pageant contestants. The airline had not obtained permission from Vietnam's aviation authorities, and it was fined £678.20 (around Rs 62,000). Despite this, the airline hasn't seen a decline, in fact according to the BBC, the airline has seen a 20% increase in trading in 2017.
'Sexist' marketing strategies  
Vietjet Air has been in the news for its the racy "sexist" marketing stunts that. As per reports, it became the second-largest airline of the country within a short span with its aggressive and out-of-the-box marketing. 
Currently, the airline serves 23 domestic and 10 international destinations. It took the aviation industry by surprise after it decided to use bikini-clad models in its advertisements. However, they are only models, not flight attendants and many of them are not even Vietnamese. Also, the actual flight attendants do not wear bikinis all the time. The marketing gimmick worked and the flight from "Ao Dai" (traditional Vietnamese clothing) to bikini raked in a lot of moolah for the airline. 
Indonesia said no to bikini-clad airhostesses 
Last year, when VietJet announced its plan to connect to Jakarta, the Indonesian government made sure that the airhostesses were clad. The airlines abided by and announced that their bikini stunts are not regular, only tailored for specific occasions and appropriate destinations.
VietJet is the first-ever bikini airline
Though there exists a nude airline that operates from Germany, an airline having bikini-clad airhostesses is the first-ever airline of such kind.