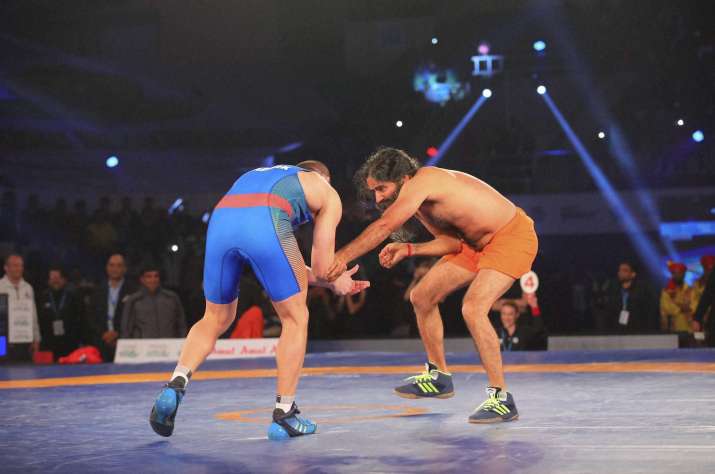 Sporting his typical saffron langot on the mat, Yoga guru Baba Ramdev on Wednesday defeated Beijing Olympic silver medallist Andrey Stadnik 12-0 in a promotional bout of the Patanjali Powervita Pro Wrestling League (PWL).
Ramdev walked onto the mat and, before the bout began, exhibited his firebrand yoga moves before proceeding to his friendly battle with Stadnik, 34, a former European champion.
Ramdev showed wrestling acumen as he pulled out the best of technical moves such as take-down, one-leg hold and pinning down.
Since it was a promotional bout, Stadnik responded by allowing Ramdev to have his way, as did the referees. After nearly two minutes, Standnik surrendered.
The bout took place during the second semi-final between Punjab Royals and Mumbai Maharathi. PWL is sponsored by Patanjali Ayurved Limited, owned by Ramdev.
Twitter users, however, could not hold back from seeing the humorous side of the so-called tie.
This is how Twitter reacted on Baba's win: