Follow us on New Delhi: "It was difficult for my parents to accept that I was born with a rare disease" said Stacy Rodriguez who is born with Herodo Macular Degeneration of eyes, an impairment that makes her see only twenty percent of what rest of us enjoy in the world.
Soon to come out with a painting exhibition based on her own journey and having penned down her feelings in a novel 'The Reflection – Voice of My Heart', the confident, 26 year old is not deterred anymore by what doctors once declared will change into a permanent blindness.
The event will be organized from Friday, 2nd to 5th January 2015 in Cache', the Arts and Craft Gallery of Mumbai from 11:00 to 9:00 PM.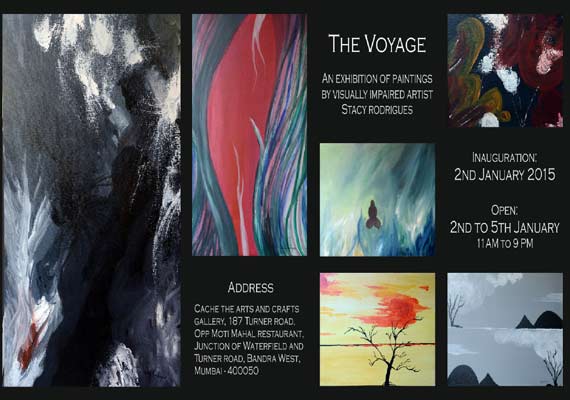 She further recalled, "My Father couldn't accept the fact however my Mother supported as much as she could. They had spent quite a fortune on my illness. May be this was the reason that I was treated differently by the world".
She is ready to conquer the hearts of those fully-enabled with kindling yellow fire and bleeding black in fumes of various colours on the canvas very soon. The youngest of 3 siblings and born and brought-up in sprightful Goa, the unwavering seemed to have taken the colours from her environs and sketched a life of her own. Her ensuing confidence has left the helplessness and curse long back.
Today she feels very strong and positive. She wants to advise families to be supportive towards kids especially those born different from the rest. To the larger world, she simply appeals to treat all alike as nobody has a choice to be born perfect.
On being asked about her marriage, she said, "I have no plans as such." She feels she has lot to do as of now.
Stacy is not the one born with a rare disease, she is the one born with rare guts.