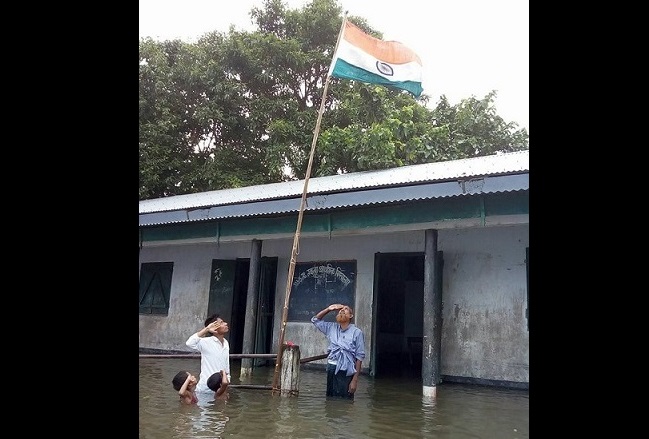 While we were celebrating India's 70th Indpendence Day, a heartfelt picture went viral on social media. The photograph has a man, a seemingly teen and two kids saluting the tricolour as it unfurls, all of them marooned in water. Both the children's shoulders were barely above water. Many shared and liked this picture as a mark of patriotism while few others were stirred by the grim situation of flood.
The photograph was shared over a lakh of times on Facebook and forwarded via WhatsApp. The viral snap is from Assam's Dhubri where a teacher and students are marking the celebration of India's 70th Independence Day by hoisting the flag. The picture was shared on Facebook by Mizanur Rahman who is an assistant teacher in Naskara LP school under Fakirganj Police station of Dhubri. While talking to BBC Hindi, Mizanur said, he didn't expect such an overwhelming response to the picture. He sayd that electricity is a rare phenomemon in the area, hence after clicking the picture, she switched off the phone. It was only in the evening that he came to know about the extent the picture has gone viral.  
Mizanur said that events at government school has to be documented and sent to Education department, hence, the picture was taken. Moreover, students seen in the image can swim. Later in a Facebook post, Mizanur wrote, "It is very tough for me to figure out the right way to thank you all for supporting me and making my effort to be rightly executed to the world. This whole thing is new to me and I am trying my very best to make sure everyone appreciated. I want to express my deepest gratitude to all the facebook users for accepting my small effort and making my post viral. I would like to take this oppurtunity to thank all print and electronic media houses for your role in showing our little effort to the whole world. I am extremely overwhelmed by the kind of support you showed on us. I would like to thank all the people of our region, despite of heavy flood, you have not failed to show your true patriotism and love for our great country. This phenomenal success is the reflection of the ever increasing dedication and love for this country. Thank you all once again.VANDE MATRAM. LONG LIVE INDIA." The Naskara LP School has almost 200 students all of which belong to poverty-stricken families.
By sharing this picture, Mizanur has brought the attention of concerned authorities towards the flood-hit Assam. Flood has almost alienated the area from the rest of the district causing threat to connectivity.