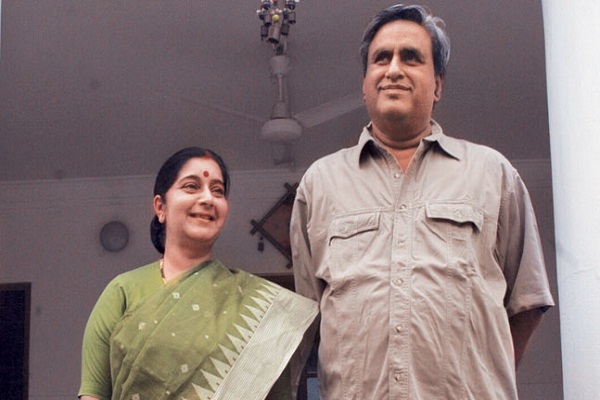 Indians, regardless of their ethnicity or religion are coming together to hail the landmark decision made by Supreme Court on triple talaq. Just as the verdict was passed, thousands of tweets poured on the micro-blogging site to laud the step. The decision was termed to be a crucial step towards strengthening women's rights in India. Number of celebrities took to Twitter to express their joy. Former cricketer Mohammad Kaif backed the SC's verdict and got trolled in return. Among these many celebrities was Swaraj Kaushal, ex-Punjab Governor and husband of India's external affairs minister, Sushma Swaraj. 
Kaushal is famous for his elegant takes on contemporary issues. In one of his tweets, Swaraj mentioned Meena Kumari to cite repercussions of triple talaq on women. These lines were spoken by none other than the legendary actress in front of her husband Kamaal Amrohi after being given triple talaq. 
Talaaq to de rahe ho nazar-e-kehar ke saath, Jawani bhi meri lauta do mehar ke saath.
His tweet went viral on social media within minutes. Most of the people expressed their agreement on his views. 
This was not all. Some people confronted Governor Swaraj with counter views. According to some, the lines weren't Meena Kumari's original and shouldn't be quoted by him in this manner. 
Waise yeh Meena Kumari ne nahin likha. It was written by Sajid Sajni the last Rekhti poet.
It's being attributed to her on Twitter

— Rana Safvi رعنا राना (@iamrana) August 23, 2017
But Swaraj had the perfect answers to the naysayers. 
But apart from few counterarguments, there were many who backed his elegant tweet about the issue. 
A twitter user tweeted the excerpt from what the actress had to go through due to triple talaq. 
The real story behind this dialogue pic.twitter.com/7pcNgAdjUu

— IronyHumour (@IronyHumour) August 22, 2017
Dil ko Chhoo Gaye sir aapke Shabd!

— Harsh Ranjan Pathak (@Harsh_Pathak14) August 22, 2017
Could not have put it more elegantly...bravo!

— Evaluator Speculator (@MarwarWarrior) August 22, 2017
Too good ! No matter woman touch the sky however men will be men ! Huh

— Capt. Richa Sood BJP (@RichaCapt) August 22, 2017