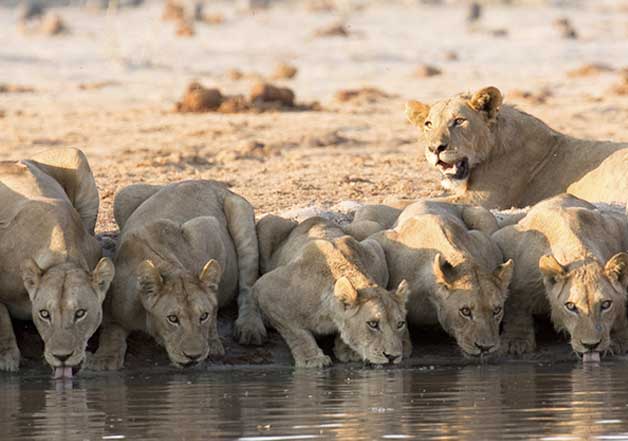 New Delhi: In a rare sight, a pride consisting of nine lions was spotted drinking water from the pond at Gujarat's Gir forest. As the population of lions has declined rapidly in the country, this video has come as a delight for all the wildlife lovers.
In the video, two lionesses can be seen quenching their thirst along with their seven cubs. As the temperature is soaring, the forest authorities have made a special tank to serve the water need of the lions.
Everyday in afternoon, prides of lion come there to satisfy their thirst. This makes for an amazing opportunity for the tourists who have come in the jungle to get a sight of the lions.
"Lion is a social animal, they do everything together in a group – be it drinking, eating, or wandering. It makes for an amazing sight for all the wildlife lovers. There is something special about the lions which attract humans a lot," said Dr. Sandeep, Wild Life Officer, Narmada.
Gujarat's Gir forest, which is famous for having largest number of Asiatic lions, has 523 lions as of 2015. The better arrangements and good management in the national park has helped in increasing the count of lions. In between 2010-2015, the lion count has increased by 112 (40%). Spread across 258 kilometres, the park has maximum number of lionesses – 201. However, 260 lions have been dead in the last five years.
Though, due to the successful conservation practices the number of lions in the forest has increased and they are moving freely as per their wish in the wildlife. This is the reason why the spectacular sight of nine lions drinking water together has become possible.