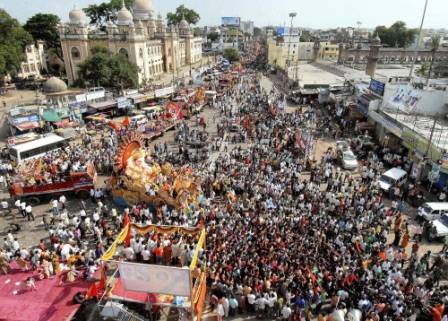 Marking the end of 11-day long Ganesh Utsav, the idol immersion ritual is underway in Hyderabad amid tight security. The ceremony which takes place on a grand scale in Hyderabad and several other parts in Telangana is witnessing a massive crowd. Despite of myriad traffic diversions, devotees have thronged the immersion venue to bid adieu to bappa.
Thousands of idols of different sizes and different avatars' from various parts of Hyderabad and outskirts were being carried for immersion in Hussain Sagar, the lake which divides the twin cities of Hyderabad and Secunderabad.The idols were also being immersed in lakes and water bodies in different parts of the city and outskirts. About 15 lakh people were expected to join the immersion processions, including the main processions, as over 27,000 security personnel have been deployed to maintain peace.
In a departure from the past, the tallest idol installed every year at Khairatabad was the first to begin its journey towards Hussain Sagar. Huge cranes were deployed for immersion of the 57-foot-tall idol. During the previous years, the tallest idol used to be the last to begin its journey for immersion and the process used to stretch on to the next day. Police this time persuaded the organisers to start the procession early for smooth conduct of the immersion.
Authorities have deployed 159 cranes, including 51 static cranes, at 23 water bodies for immersion. At Hussain Sagar, where 5,000 idols are expected to be immersed, the Greater Hyderabad Municipal Corporation (GHMC) along with other departments has arranged 27 cranes. Greater Hyderabad Mayor B. Rammohan said about 6,000 idols were immersed till Monday in the special immersion ponds set up by the GHMC at a cost of Rs 21 crore to avoid pollution in Hussain Sagar and facilitate early completion of the ceremony.
Officials said nearly 26,000 idols were installed this year in and around Hyderabad and nearly half of them were already immersed. For the first time, the police geo-tagged the idols to ensure smooth conduct of the immersion.About 95,000 idols were registered with the police across Telangana. Telangana Director General of Police Anurag Sharma said that elaborate security arrangements had been made in Hyderabad and other towns in the state to maintain law and order. Massive security arrangements were in place in Hyderabad. Over 27,000 security personnel, including those drawn from central paramilitary forces, were deployed.
In order to avoid any mishappening, processions is being monitored through 15,000 CCTV cameras and 800 video cameras besides an aerial survey. 16 bomb disposal teams have also been deployed along with anti-Maoist force Greyhounds and anti-terror unit OCTOPUS. It must be noted that main procession passes via the communal sensitive area, hence surveillance is tight around historic Makkah Masjid near Charminar. 
On a related note, this year laddu has been auctioned off at a whopping price of ₹15.6 lakh. The tradition which takes place on the last day of Ganesh Chaturthi is being carried out for more than two decades.
(With IANS inputs)