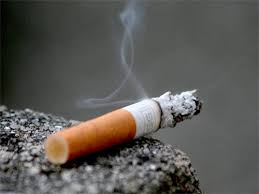 A 25- year-old Delhi man Mustakeem Ahmad shot dead his colleague Inayat who allegedly introduced him to smoking. Mustakeem who was a cook at a west Delhi restaurant was addicted to smoking and later developed throat cancer. He blamed it on his colleague from Myanmar and said that he took smoking under the influence of Inayat. The victim was rushed to hospital but he died. Before shooting Inayat Ahmad bought a pistol and practised enough so that his target doesn't get missed.
Ahmad and Inayat were friends at the workplace but due to dedication and better performance Inayat became everyone's favourite which frustrated Amhad. He started smoking cigarettes and marijuana allegedly under the influence of Inayat. Meanwhile he had throat infection and on consulting doctor he came to know that he has developed cancer. This added fuel to the fire and escalated animosity in Ahmad against his colleague.
His performance at workplace also became poorer day by day and he was fired. Ahmad returned to his native village in Uttar Pradesh's Amroha and purchased a country-made pistol with the aim of killing Inayat. After few days he came back to Delhi and asked his brother-in-law who is also the owner of the restaurant to sack Inayat but he refused to do so. Then Ahmad began arguing with Inayat and in mid of the scuffle shot him. Inayat was immediately taken to hospital but he succumbed to his injuries.
"He was carrying his loaded pistol to the restaurant and had planned to kill Inayat if he failed to get him fired from the job. That is what eventually happened. Ahmad ended up picking a fight with Inayat. He later shot at him in the middle of the argument," an investigator told Hindustan Times. Ahmad fled from the spot however the police team nabbed him on the tip-off from an informer.
On a related note, cancer of the voice box, vocal cords, tonsils and oropharynx are referred to as throat cancer. It is often catergorised into two types - pharyngeal cancer and laryngeal cancer. Pharyngeal cancer forms in the pharynx which is a hollow tube running behind nose to the windpipe. Laryngeal cancer occurs in the larynx which is voice box. It is difficult to detect throat cancer in early stages, however, its symptoms include change in voice, trouble in swallowing, weight loss, sore throat, unclear throat and persistent cough.