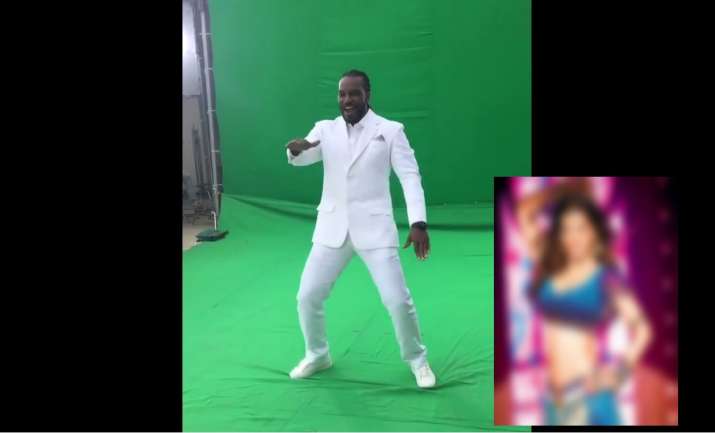 A couple of days ago, former West Indies captain Chris Gayle posted a video on his official Facebook handle which shows the cricketers dancing on Sunny Leone's popular dance number 'Laila' from Raees. He posted the video along with a challenge for his fans. He asked his fans to post a video of their dance on the same song with a hashtag #ChrisGayleDanceChallenge. He also announced that he's going to award the winner with USD  5000 and feature the top 5 selections on his page. The results are impending on 24th July. 
WhatAdemanding #Laila @henrygayle in full mood of dance&Fun💃🏻#ChrisGayleDanceChallenge #Enjoy #Cricket @mak_asif @aaliaaaliya @ShahidSelfie pic.twitter.com/cM5JxEs1zB

— Munazza Jilani (@munazzajilani) July 16, 2017
The video posted by Chris Gayle on 15th July managed to get 1.1 million views in a matter of just 5 days. It has been shared more than 18,000 times of Facebook. 
As it is a Sunny Leone item song, how can the actress refrain herself from flaunting her dance moves on her own song. She posted a clipping from the original song Laila Main Laila from Raees while having Chris Gayle's dance video in the other half. By seeing the video, one can say that Sunny Leone surely got the moves. 
This is what her tweet read: Hey @henrygayle , Here is my entry for #ChrisGayleDanceChallenge.
Hey @henrygayle , Here is my entry for #ChrisGayleDanceChallenge 😅😛 LOL#SunnyLeone #ChrisGayleDanceChallengeAccepted pic.twitter.com/6HCJNsKU44

— Sunny Leone (@SunnyLeone) July 18, 2017
Chris Gayle was totally awestruck by the video and he replied to the tweet with "I'm just seeing this…you got the moves." It seems Gayle got awestruck by watching the video."
I'm just seeing this...you got the moves. 😄👍🏿 https://t.co/7LlkR72Zdx

— Chris Gayle (@henrygayle) July 19, 2017
Thanks doll!! You are not so bad yourself ;) https://t.co/dKjiVUFtDH

— Sunny Leone (@SunnyLeone) July 19, 2017
The competition will wind up on 24th July with results declarations. Let's see whether our beautiful actress Sunny Leone bags the $5000 or not. Meanwhile, let's have a look at other entries to the competition. 
#ChrisGayleDanceChallengeAccepted #ChrisGayleDanceChallenge @SunnyLeone @henrygayle #ContestAlert hope you like it 😘 pic.twitter.com/PBIgsPxAmH

— AKSHAY VERMA RAJPUT (@AkshayVstar) July 19, 2017
A Pakistan cricket fan also sent his entry to Chris Gayle Dance Challenge. We can see that Chris's popularity is pretty evident among the cricket fans around the world. 
#ChrisGayleDanceChallenge #chrisgayle
Mine Video of dance From Pakistan,Me and My Country Love YOu Soo Much. pic.twitter.com/RI0xMKAC2z

— Bhakkar Vines (@BhakkarVines) July 18, 2017
For more such stories, Follow India TV Showbiz page on Facebook.