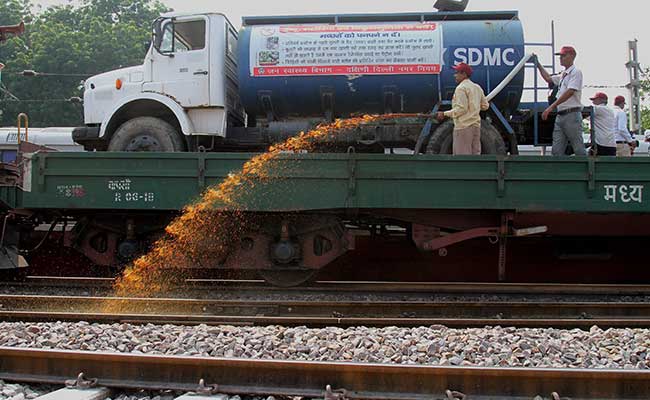 When hospital beds are full of patients suffering from malaria, dengue and chikungunya, South Delhi Municipal Corporation has thought of an innovative way to curb mosquitoes breeding near railway tracks. 'Mosquito Terminator' was flagged off jointly by South Delhi Mayor Kamaljeet Sehrawat, member of the Standing Committee Bhupender Gupta, and divisional railway manager R. N. Singh. It aims at sanitising localities and water bodies located near the tracks. The train running at the speed of 20km/hour will cover a distance of nearly 70 kilometres a day. 
This annual exercise is carried out during the breeding season in collaboration with Northern Railway. This year, the train will in total have eight trips from August 18 to September 16. A truck with power sprayers containing anti-larval chemicals will be loaded on train for the purpose of fogging. The truck has a mixture which contains 8,000 litres of water and 200kg larvicide and the power sprayer is capable of spraying around 60 metres on both sides of the track. The exercise will be done early morning at 7 am to avoid inconvenience to people. It will also provide relief to slum dwellers residing near railway tracks from mosquitoes menace.
All trip will begin and end at New Delhi station. In its first trip, the terminator train covered south Delhi areas while on other day it will went through Delhi Cantonment, Gurugram and Palam. The special train will also pass through the areas of north and east Delhi municipal corporations. The drive is being carried out under the supervision of malaria inspectors.