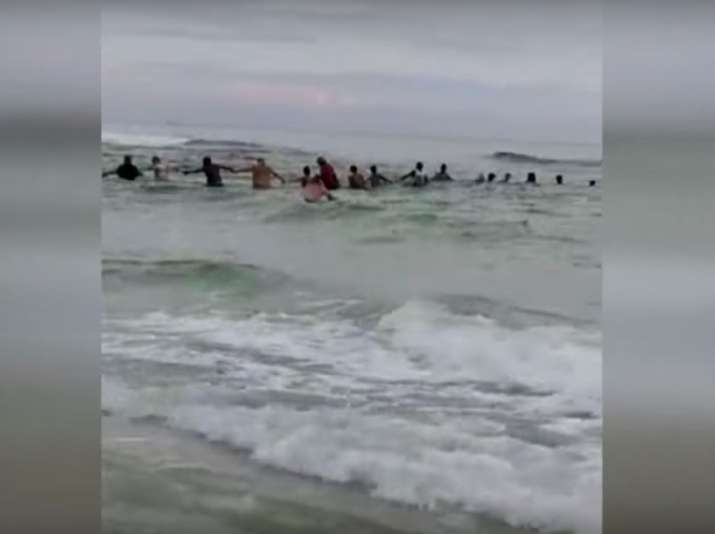 Newspapers are always strewn with myriad of news about how a person defied humanity and did the unthinkable. But this news is surely going to restore your faith in humanity, if not completely, then to some extent. Almost 80 RANDOM people formed a human chain by holding hands on a Florida Panhandle Beach to save nine member of a family from getting washed away. The family was caught in a powerful current below the water's surface. In just a matter of second, the family could have become a history, but thanks to these random good Samaritans who did the right thing at the right time. 
As per Panama City News Herald, Roberta Ursrey had gone to the beach near M.B. Miller County Pier on Saturday to enjoy the day with her family. She noticed that her sons were missing from the beach. This made her fret which led to her chaotically looking for them. She heard her son's cries for help from the water and she immediately realised that they were engulfed by a current. People advised her to not to go out there. But she couldn't just stand and watch her babies die. She with her mother and five other family members started swimming to help the boys. Soon they found themselves trapped in the water as well. During this, her mother suffered a massive heart attack and she is hospitalised. 
Jessica Simmons and her husband were present at the same beach for dinner when they saw the commotion at the beach. When she realised that people were drowning in the sea, she started swimming towards Ursrey's family. 
Also Watch: Nagpur: Eight youths drown in Vena Dam while taking a selfie on boat
In the meantime, Simmons husband and other men made a human chain to help people out of the sea. Eventually the chain got 80 people long to save the family. 
Ursrey said, "I am so grateful, these people were God's angels that were in the right place at the right time. I owe my life and my family's life to them. Without them, we wouldn't be here."
It's not often that we get to see such brave acts of humanity. It was a rare sight and we're glad that the incredible moment was recorded in a camera. 
For more Lifestyle and Entertainment stories, follow India TV Showbiz on Facebook