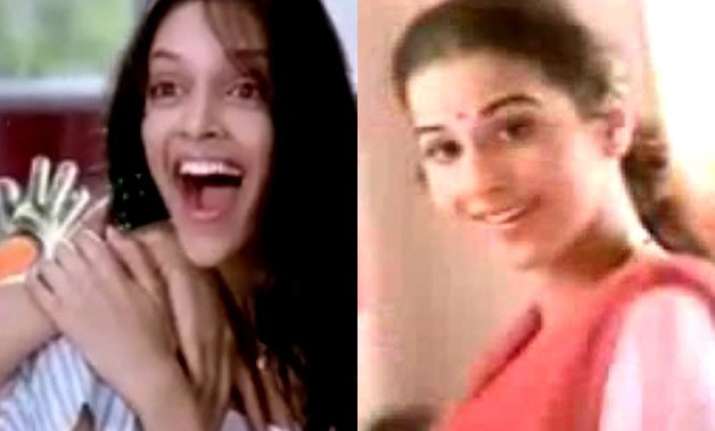 Of late, more than the movies, we see Bollywood stars in brand endorsements.
From Katrina Kaif, Salman Khan, Big B and Aamir Khan to Kareena Kapoor, Deepika Padukone, Hrithik Roshan (remember his Coke ad, what fabulous dancing!) and Sonakshi Sinha, everyone is selling or promoting something or the other.
When we see them, it's easier for us to recognise them coz they are all celebrated actors. But did you know that some really hot looking Bollywood celebs started with ads before they forayed into movies? Yes, they did start as the fresh face of some products.
Here is the list of some actors who started their careers with some bang on ads even before they tasted stardom.
Vidya Balan
If you think that Vidya Balan, the powerhouse performer that she is today, started her career with Hum Paanch, then think again! Of course she is known for her role as Radhika Mathur and Bollywood happened much later. But did you know that she debuted with a Surf Excel ad where she played a mother? Check it here.
Preity Zinta
Before she took Bollywood by storm with her super cute smile and dimples, Preity Zinta first did an ad for Liril soap way back in 1997. Her vivacious personality in this ad where she is seen having a ball of a time under a waterfall got her the first break in Bollywood.
Shahid Kapoor and Ayesha Takia
The Complan Boy (Shahid Kapoor) and the Complan Girl (Ayesha Takia) started their journey to Bollywood as child artists in 90's. How cute the duo looked!
Deepika Padukone
Kya aap close up krte hain? We all have sung this at least once! While the music was so good, we are sure you would have barely noticed Deepika Padukone, now the stunning diva, in this ad! Missed her right? Check this one out!
Varun Dhawan
You know what helped Varun Dhawan to become the "Student Of The Year"? He drinks Bournvita. At least in this ad, he does! This superstar first appeared as a child artist in this Bournvita ad in the 1990's. Look at this ad and you will know why he looks so cute even now!
Milind Soman
He is one model/actor who is insanely good-looking, and he is one guy who never ages. Even if it is for a minute, we just can't miss his charismatic personality. Here a little proof!