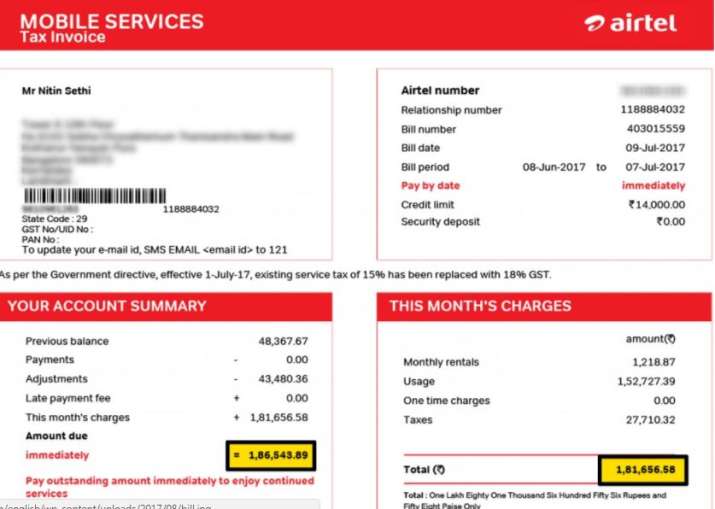 Bharti Mittal, one of the leading telecom companies of India, has served a bill of whopping Rs 1,86,553 to one of its customers leaving him enraged. Delhi-based Nitin Sethi, who is the vice president of a classified advertising platform, was perplexed after he received this bill. Also, he was asked by the company to pay the bill immediately. 
The bill generated for the period June 8, 2017 to July 7, 2017 suggests that Nitin used services worth Rs 1,52,727. He, however, alleged that he had no idea about this. 
Nitin said that he has a credit limit of Rs 14,000 going beyond which he should have got a call from Airtel intimating him about exhaustion of the upper limit of his post-paid plan.  
Soon after getting the bill, Nitin contacted customer care to get his grievance redressed but that went in vain. Though Airtel admitted that it's a technical glitch but no action has been taken yet. Neither the telecom company has contacted Nitin nor he has been given any assurance by the customer care member. "I was left with utter shock when I received this bill and I had contacted their customer care immediately who told me this might be a technical error. But even days after this issue have not been resolved," said Nitin while talking to a website, Evartha.
Even reaching out to customer service was not an easy task for him. His calls were kept on hold for longer duration exhausting his patience. "Holding the call for nearly quarter an hour and reaching out for a customer care executive agent from Airtel is really harassing," he said while expressing his problem. As there is no sign of action in near future, will the young entreprenuer drag the company to consumer court, answering to which he said, "As I have waited for so long and still the issue doesn't seems to get resolved, I am heading towards the consumer forum."
However, now, Airtel has replied to Nitin and has solved his problem, admitting that it was a technical glitch. Moreover, the company's response seems to have been apparently to Nitin's satisfaction.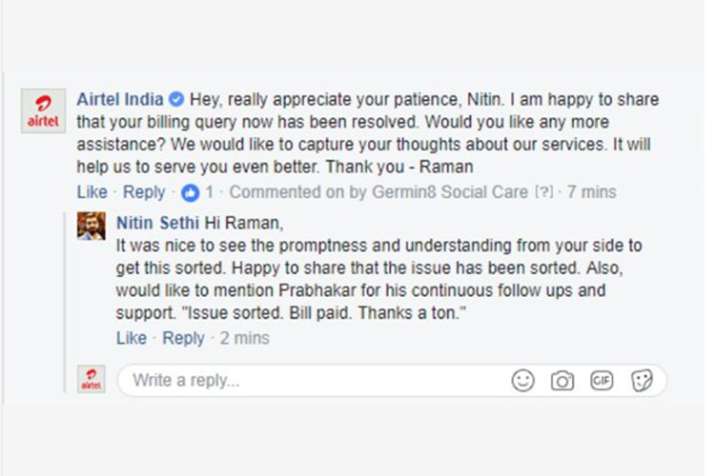 This is not the first time, Bharti Airtel has mired itself into a controversy. Couple of days back, telecom department in an audit found that Airtel is the top operator whose mobile towers are violating radiation norms. Parliament has been informed about the same.