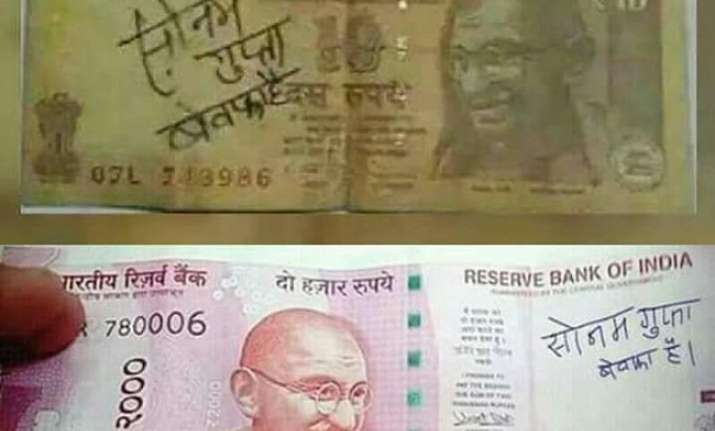 A few years ago, a picture of a Rs 10 note with the words 'Sonam Gupta bewafa hai' scribbled on it broke the internet. No sooner had the picture gone viral, everyone wanted to know who this lady was!
But like all viral stories on internet, as time passed, Sonam Gupta was forgotten. Recently, after Prime Minister Modi decided to introduce new currency notes and scrapped Rs 500 and Rs 1,000 notes, Sonam Gupta made an exciting comeback.
In a picture circulated on social media, the freshly printed Rs 2000 note had the same words, 'Sonam Gupta Bewafa Hai', written on it.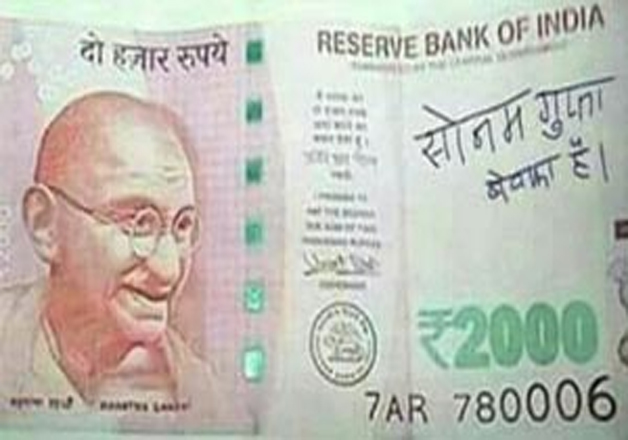 And after that, the Internet was filled with memes and trolls on Sonam Gupta's disloyalty, because the social media users decided that nobody in the world should be unaware of what Sonam did. 
Some of the best memes are:
Sonam Gupta bewafa hai - Salman Khan pic.twitter.com/B8LHO0rCGh

— Dexter (@dex_t_er) November 14, 2016
Relationship Status: #BewafaaiZoned By Sonam Gupta. ;)#BlackMoney #blackMoneycleanup #ModiFightsCorruption #digitalbanking #SonamGupta pic.twitter.com/bgRibML7bp

— Sir Ravindra Jadeja (@SirJadeja) November 13, 2016
When Sonam Gupta beats Sonam Kapoor. #sonamguptabewafahai pic.twitter.com/Qq56So5bUa

— Shashi Poddar (@Afsar_Bitiya) November 15, 2016
Next year we can know why #Kattappa killed #Baahubali but somebody tell me, ke sach me #SonamGupta Bewafa hai !!??#sonamguptabewafahai

— Davis Louis ™©® ✈ (@Capt_DavisLouis) November 14, 2016
PROUD MOMENT FOR INDIA:

Queen of England declares Sonam Gupta as "International Bewafa" ! pic.twitter.com/QWNxcyUS97

— Finger of India (@IndiaFinger) November 14, 2016
Social media users cracked all kinds of jokes at the expense of this particular Sonam Gupta, making life rather painful for all the Sonam Guptas in India.
A leading daily spoke to some unlucky Sonams who are not just battling with increasing number of messages from strangers, but also had to face questions from their family who are not tech savvy and have never heard the word 'meme'.
Here's what they have to say:
1)    Sonam Gupta , 25-year-old entrepreneur
"Ever since this started trending online, my friends have been tagging me in every such meme they come across. They're even sending me Whatsapp jokes about it. My ex-boyfriend, too, forwarded an image to me. I find this really funny, but I want to tell the world that I am not the 'bewafa' type," says a 25-year-old entrepreneur of the same name.
2)    Sonam Gupta, Housewife
Another Sonam Gupta, who got married this September, shares, "My husband makes it a point to crack this joke whenever he gets the chance. At first, I found it funny, but then I told him that if it continues, I might just get inspired by this elusive Sonam everyone is talking about. He's been shut since then."
3)    Sonam Gupta, 25-year-old feature writer
Sonam Gupta, who is a feature writer, says that the funniest reaction she has gotten since the trend has broken the Internet is when one of her uncles called her on Tuesday asking her if it was her ex-boyfriend who had written 'Sonam Gupta bewafa hai' on the note.
If your name is Sonam Gupta, our sympathies are with you!