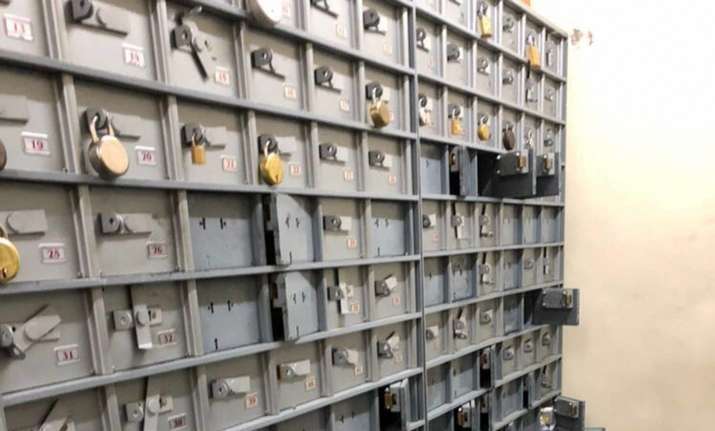 The audacious robbery at Bank of Baroda's Juinangar branch in Navi Mumbai saw thieves dig a 25-foot tunnel into the bank, prise open around 30 lockers and get away with valuables estimated to be around Rs 6 crore. However, the onus of bearing the loss will solely rest with the 30-odd customers whose lockers were prised open by the robbers.
According to local police, thieves dug a tunnel under the Navi Mumbai bank, broke into 30 lockers and stole valuables worth Rs 5-6 crore. Officials at Bank of Baroda's branch came in to work on Monday and found the broken lockers and a gaping hole under them, police said.
After examining the hole, they found it led to a 30-foot-long tunnel that opened into a shop a short distance away from the bank. The shop, a general store opened in May and was bought by one Gena Bachchan Prasad, a native of Jharkand, a few months ago.
The tenant has been missing ever since the incident came to light, police said, adding that in such cases, people give out fake names and identity proofs.
As dramatic as the heist may sound, similar incidents in the past suggest that the bank will be absolved of all responsibility for the losses, leaving customers to bear the losses they incurred on their own.
Despite state-run banks allotting lockers to customers at a cost – in some cases involving a lot of lobbying too – the rules in place do not hold lenders responsible for any theft from its lockers. The aggrieved customers in this case, thus, are unlikely to get any compensation from Bank of Baroda.
Here's why. All bank agreements with customers availing locker facilities holds the relationship between them as that of a lessor and a lessee, or a landlord and a tenant, an RTI response revealed in a PTI report in June this year had revealed.
All locker hiring agreements of state-run banks have this clause: "The bank will not be responsible for any loss or damage of the contents kept in the safe deposit vault as a result of any act of war or civil disorder or theft or burglary and the contents will be kept by the hirer at his or her sole risk and responsibility."
In short, the customers bear sole responsibility for the safe-keeping of all valuables that they store in bank lockers and the bank holds no responsibility whatsoever in cases of theft or burglary as is the case in the dramatic bank heist reported today.
This, however, is not the first such incident reported from a government bank. In 2014, a similar incident occurred, where the perpetrators dug a tunnel leading to the locker room of Punjab National Bank's Sonepat branch, and robbed valuables worth crores from 89 lockers.
The current incident, and similar ones in the recent past, point to the increasing redundancy of bank lockers under existing rules. For customers, the whole idea of availing locker services from a bank is to ensure the safety of the valuables that they believe cannot be provided in the confines of their own home.
However, the alarming number of robberies in state-run banks, which many in India still consider a 'safer' option as compared to their private banking counterparts, makes availing locker services an unintelligent bet.
Banks refusing to shoulder any responsibility for the losses incurred due to their own deficiencies only makes matters worse.
Where does this leave the customer? Probably in a no-man's land. It's an open secret that private banks usually demand heavy investments by customers (usually as fixed deposits or mutual funds) in exchange of pushing their names up in the 'waiting list'. In most other cases, bank locker facilities are said to be 'unavailable' for regular customers.
The safest option that customers are then left with is their home and getting their valuables insured against theft or damage. While the trend is yet to catch up, there is little else that customers can do otherwise.