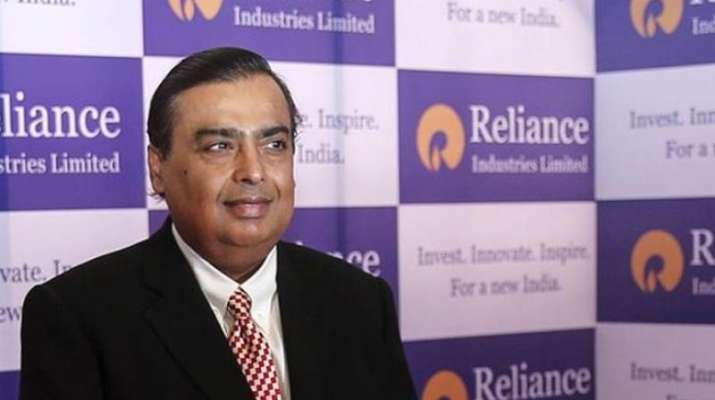 Reliance Industries on Friday reported an 18.6 per cent rise in consolidated net profit to a record Rs 11,262 crore for the second quarter of the current fiscal on the back of a turnaround in refining margins and continued rise in consumer businesses of retail and telecom.
Net profit in July-September stood at Rs 11,262 crore, compared to Rs 9,516 crore profit in the same period a year back. Consolidated revenue rose to a record Rs 163,854 crore, the company said in a statement.
Consumer businesses, which till last year accounted for a quarter of the company's pre-tax profit, contributed a third of EDITDA in Q2.
Retail business EBITDA rose 13 per cent to Rs 2,322 crore while telecom arm Jio posted a net profit of Rs 990 crore. 
"The Company has reported a record net profit for the quarter. These excellent results reflect benefits of our integrated Oil to Chemicals (O2C) value chain and the rapid scale-up of our Consumer businesses. During this quarter, our O2C businesses gained from favourable fuel margins environment, feedstock sourcing flexibility and higher petrochemicals volumes. Our O2C business, with new partnerships, is best placed to pursue growth and substantial value creation," Mukesh Ambani said in a statement after the RIL Q2 posting. 
​HIGHLIGHTS OF RIL's QUARTER'S PERFORMANCE (CONSOLIDATED - RIL)
• Revenue increased by 4.8% to ` 163,854 crore ($ 23.1 billion)
• PBDIT increased by 15.5% to ` 25,820 crore ($ 3.6 billion)
• Profit Before Tax increased by 14.1% to ` 15,055 crore ($ 2.1 billion)
• Cash Profit increased by 18.0% to ` 18,305 crore ($ 2.6 billion)
• Net Profit increased by 18.3% to ` 11,262 crore ($ 1.6 billion)
CORPORATE HIGHLIGHTS FOR THE QUARTER (2Q FY20) (From RIL's official statement on Q2 results)
• Saudi Aramco and RIL signed a non-binding Letter of Intent ("LOI") regarding a proposed investment in the Oil to Chemicals (O2C) division comprising the Refining, Petrochemicals and fuels marketing businesses of RIL. Saudi Aramco's potential 20% stake is based upon an Enterprise Value of US$ 75 billion for the O2C division. This would be one of the largest foreign investments ever made in India.
• BP and RIL agreed to form a new joint venture that will include a retail service station network and aviation fuels business across India. Building on Reliance's existing Indian fuel retailing network and an aviation fuel business, the partners expect the venture to expand rapidly to help meet the country's fast-growing demand for energy and mobility. Reliance will get approximately ` 7,000 crore from BP's investment in this joint venture.
• Jio, the world's largest mobile data network, announced the commencement of JioFiber, its Fiber to the Home service, across 1,600 cities in India. With JioFiber, Jio continues to deliver on its promise of connecting the unconnected while bringing about transformational changes to Indian
homes.
• Reliance Industrial Investments and Holdings Limited ("RIIHL"), a wholly-owned subsidiary of RIL, entered into an agreement with BIF IV Jarvis India Pte Limited, an affiliate of Brookfield Asset Management Inc. ("Brookfield") for an investment by Brookfield (along with coinvestors) of `25,215 crore in the units proposed to be issued by the Tower Infrastructure Trust ("Trust") in accordance with the Securities and Exchange Board of India  Infrastructure Investment Trusts) Regulations, 2014. Brookfield's investment is subject to conditions precedent, including receipt
of requisite government and regulatory approvals.
• RIIHL, a wholly-owned subsidiary of RIL entered into an agreement for acquisition of equity shares of Shopsense Retail Technologies Pvt. Ltd. ("Shopsense" or "Fynd") for a cash consideration not exceeding ` 295 crore. RIIHL has an option to further invest an amount of up to ` 100 crore which is likely to be completed by December 2021. The total investment will translate into ~87.6% of equity share capital in Fynd on a fully diluted and converted basis.
• Reliance Jio Infocomm Limited (Jio), a subsidiary of RIL, and Microsoft Corp. announced formation of a new alliance. The alliance will embark on a unique, comprehensive, long-term strategic relationship aimed at accelerating the digital transformation of the Indian economy and society. This 10-year commitment combines the world-class capabilities of both companies to offer a detailed set of solutions comprising connectivity, computing, storage solutions, and other technology services and applications essential for Indian businesses and will span the broad Reliance Industries ecosystem including its existing and new businesses. 
ALSO READ | Reliance Jio adds 84.45 lakh net subscribers, others end up as losers