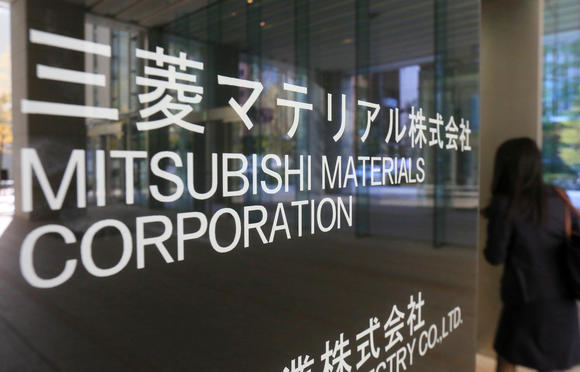 Mitsubishi Materials has become the latest Japanese firm to admit to falsifying data about products used in aircraft and cars, making it the latest entrant to the list of Japan's manufacturing giants in the dock on similar allegations. Three of its units were found to have falsified data for products supplied to nearly 300 companies in the aerospace, car and electric power industries, the company said.
Mitsubishi Materials, which operates a copper tube joint venture with Kobe Steel, said a company-wide investigation had uncovered falsified product quality data at two subsidiaries stretching back up to two years.
In a statement issued Friday, Mitsubishi Materials said that its Mitsubishi Cable Industries unit had falsified data since April 2015 on the quality level of rubber O-rings, which are used to prevent leaks in aircraft, cars and other industrial equipment.
Another subsidiary, Mitsubishi Shindoh, was found to have delivered metal products with quality levels below what was claimed by the company or requested by customers, it said.
Mitsubishi Materials has a 45 per cent stake in a copper tube venture with Kobe Steel alongside affiliate Mitsubishi Shindoh. That joint venture includes the Hatano plant that has become the focus of Kobe Steel's data falsification scandal, and been stripped of numerous Japanese and international quality certifications.
Mitsubishi Materials said shipments of the non-conforming products were halted late last month.
The company said it had not found any safety or legal problems associated with the products, but was unsure of how the scandal would impact its financial outlook, reported Reuters.
A task force has been established to investigate the problems and prevent further issues. Executives of the company bowed before reporters in apology Friday as they reported on falsified data by its subsidiaries.
The company said that three of its subsidiaries faked data on products to meet specifications. It submitted a report to Japan's transport ministry on Friday.
Similar troubles have tarnished the image of other major manufacturers such as Nissan Motor and Kobe Steel. Mitsubishi Materials said the problems affected scores of customers.
Shares of Mitsubishi Materials, a division of one of Japan's biggest conglomerates, saw shares fall by as much 11 per cent on Friday after admitting to a quality scandal.
With Agencies