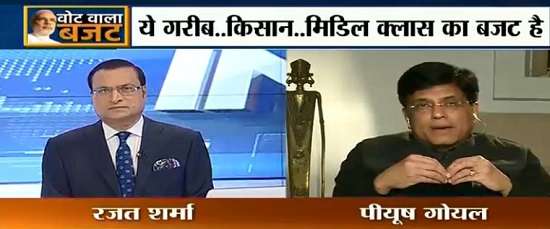 Acting Finance Minister Piyush Goyal, who presented the Interim Budget 2019 on Friday, targetted Congress President Rahul Gandhi and said that he is bereft of ground reality and totally disconnected with what is happening in the country.
Finance Minister Piyush Goyal, in the Interim Budget on Friday, said farmers will be provided Rs 6,000 per year, which amounts to Rs 16.44 daily, in three installments under a central government scheme.
Gandhi, on the other hand, alleged that the government destroyed the lives of farmers over the past five years, and said its Interim Budget announcement of "Rs 17 a day" for them was an insult to everything they stand and work for.
"Rahul Gandhi is bereft of ground reality and totally disconnected with what is happening in country," Piyush Goyal said in an exclusive interview with India TV Editor-In-Chief and Chairman Rajat Sharma. 
"Modi governement has worked towards making India better after Congress left it in tatters,"he added.
Making a big populist push in its final budget before elections, the Narendra Modi-government exempted people with an earning of up to Rs 5 lakh from payment of income tax, announced an annual cash dole-out of Rs 6,000 to small farmers and provided a monthly pension of Rs 3,000 to workers in the unorganised sector.
Over 3 crore salaried class, pensioners, self-employed and small businesses with total income of up to Rs 5 lakh will have to pay nil tax now against their current liability of Rs 13,000 (including health and education cess) in view of the relief Goyal provided in form of a 'rebate'. Individuals with gross income up to Rs 6.5 lakh will not need to pay any tax now, if they make tax saving investments of Rs 1.5 lakh under Section 80C of the Income Tax Act.
However, very senior citizens (aged 80 years and above) are not impacted by this change as their total income up to Rs 5 lakh was anyway not subject to tax.
The rebate will cost the government Rs 18,500 crore in revenue.
At a post budget press conference, Goyal promised to look into giving relief to taxpayers with an income of over Rs 5 lakh in the main budget to be presented in July.
In the Budget for 2019-20, he also raised standard deduction by Rs 10,000 to Rs 50,000 which will provide a benefit ranging from Rs 2,080 to Rs 3,588 depending on income levels.
FULL VIDEO: