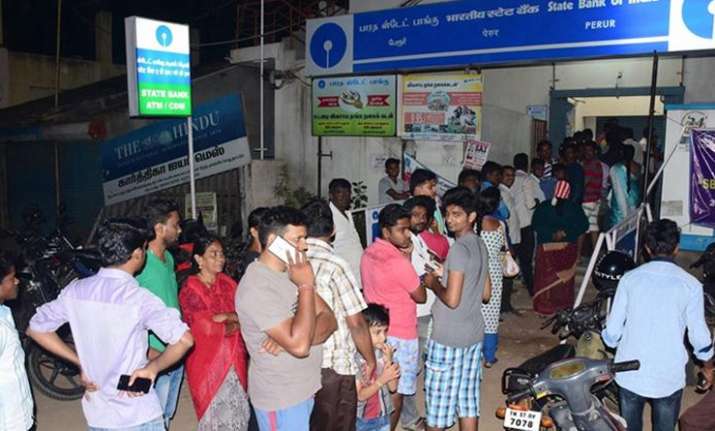 The government machinery went into firefighting mode on Tuesday with reports of ATMs running dry across the country. States like Telangana, Bihar, Karnataka, Madhya Pradesh, Andhra Pradesh and others reported shortage of currency notes forcing Finance Minister Arun Jaitley to issue a statement quelling fears of post-demonetisation-like situation. 
"Have reviewed the currency situation in the country.  Over all there is more than adequate currency in circulation and also available with the Banks. The temporary shortage caused by 'sudden and unusual increase' in some areas is being tackled quickly," Jaitley, who is currently recuperating from kidney ailment, tweeted.
Rahul Gandhi 'cashes in' on opportunity to target Modi government
Using the situation to his advantage, Congress president Rahul Gandhi launched an all out attack on Prime Minister Narendra Modi. Rahul accused PM Modi of destroying the banking system with his demonetisation decision.
In his Lok Sabha constituency Amethi, Rahul Gandhi said the "terror of note-ban" has again gripped the country.The Congress chief also took to Twitter to attack Modi, alleging he "snatched" the Rs 500, Rs 1000 currency notes from the pocket of every Indian and "gave" it to Nirav Modi, but was neither speaking a word about it nor facing Parliament. 
West Bengal Chief Minister Mamata Banerjee also cornered the BJP-led NDA government, saying the situation reminded one of demonetisation days. 
"Seeing reports of ATMs running out of cash in several states. Big notes missing. Reminder of demonetisation days. Is there a Financial Emergency going on in the country?" she said in a tweet. 
समझो अब नोटबंदी का फरेब
आपका पैसा निरव मोदी की जेब

मोदीजी की क्या 'माल्या' माया
नोटबंदी का आतंक दोबारा छाया

देश के ATM सब फिर से खाली
बैंकों की क्या हालत कर डाली#CashCrunch

— Rahul Gandhi (@RahulGandhi) April 17, 2018
'Unusual spurt in currency demand'
In a statement, the Finance Ministry acknowledged there has been an unusual spurt in currency demand in the country in last three months, but did not give specific reasons. It has also decided to ramp up the supply of new Rs 500 notes, even as reports suggested that Rs 2,000 notes, which was easier to hoard, were particularly impacted by the shortage. 
Also read: No cash in ATMs: Government to up printing of Rs 500 notes to tackle crunch
While currency supply increased by Rs 45,000 crore in the first 13 days of April, "unusual spurt in demand" was seen more in some parts of Andhra Pradesh, Telangana, Karnataka, Madhya Pradesh and Bihar, the ministry said. 
RBI issues statement 
Taking stock of the situation the Reserve Bank of India (RBI) said there is sufficient cash in the RBI vaults and currency chests. Nevertheless, printing of the notes has been ramped up in all its four note presses.
"The shortage may be felt in some pockets largely due to logistical issues of replenishing ATMs frequently and the recalibration of ATMs being still underway. RBI is closely monitoring both these aspects," a statement issued by the central bank said.
"Further, as a matter of abundant precaution, RBI is also taking steps to move currency to areas which are witnessing unusually large cash withdrawals," it added.
WATCH VIDEO: