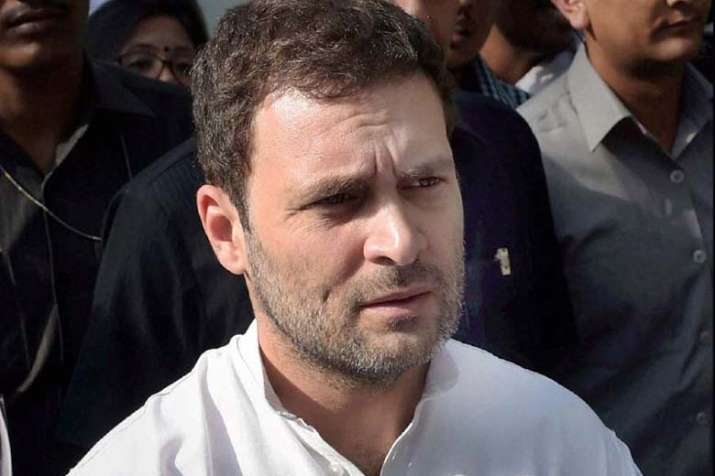 Amid reports of ATMs running dry in several states across the country, Congress president Rahul Gandhi on Tuesday blamed Prime Minister Narendra Modi for the crisis. Accusing the PM of destroying the banking system with his step of demonetisation, Rahul Gandhi said the BJP government helped PNB scam mastermind Nirav Modi run away with Rs 30,000 crore.
"Modi Ji has destroyed the banking system. Nirav Modi fled with Rs 30,000 crore & PM didn't utter a word. We were forced to stand in queues as he snatched 500-1000 rupee notes from our pockets & put in Nirav Modi's pocket,"Rahul Gandhi, who is on a tour of his Lok Sabha constituency Amethi Rae Bareli, told reporters.
Continuing his tirade against the PM, the Congress leader said that Modi was running away from debate in Parliament over issues like Rafale jet deal with France. 
"PM Parliament main khade hone se darte hain. Hume 15 mins ka bhashan mil jaye Parliament House main PM khade nahi ho payenge, chahe wo Rafael ka mamala ho ya, chahe wo Nirav Modi ka mamla ho, PM khade nahi ho payenge (PM is scared to face us in Parliament. He is avoiding debate on the floor of the House whether it is Rafale deal or Nirav Modi case)," Rahul Gandhi said.
Rahul's latest attack on PM Modi has come amid reports of currency shortage in  ATMs in several states. People is several states such as Andhra Pradesh, Telangana and Madhya Pradesh have complained of ATMs running dry.There were also complaints of shortage of currency notes in parts of Maharashtra, Gujarat and Bihar on Monday.
According to Reserve Bank of India data, currency in circulation as on April 6 was Rs 18.17 lakh crore.
Industry experts feel the shortage has been caused because of cash hoarding of the Rs 2,000 currency notes.
Temporary shortage, says Arun Jaitley
Finance Minister Arun Jaitley admitted that there was a "temporary shortage" of cash but added that the government is tackling the issue "quickly".
"Have reviewed the currency situation in the country.  Over all there is more than adequate currency in circulation and also available with the Banks.  The temporary shortage caused by 'sudden and unusual increase' in some areas is being tackled quickly," Jaitley said.